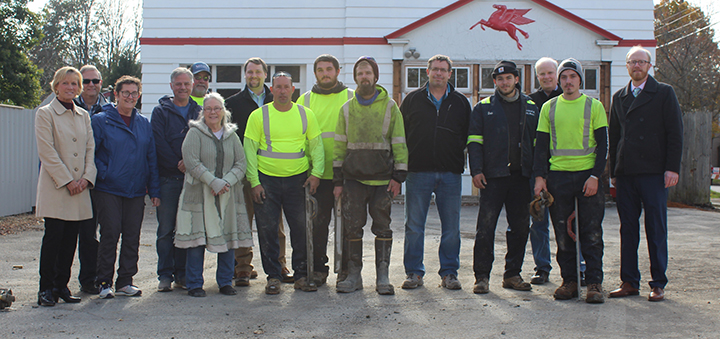 City officials standing with DPW employees, after visiting the Museum District to observe the work DPW has done in the area, and thank them for their efforts. (Photo by Sarah Genter)
NORWICH — The City of Norwich Common Council and Mayor Shawn Sastri visited the Museum District yesterday to thank Department of Public Works (DPW) employees for their hard work in helping to improve the area.
"I was speaking with Scott Grover, the Highway Foreman … he asked that I come down and take a look. And I said, you know, if I'm coming then we all should go," said Alderman Matthew Caldwell, who organized the council's visit. "The whole intent of us being there was to recognize the employees. And see the work they did, but to really recognize their effort and hard work."
The Friends of the Museum District Co-Chair Eric Larsen approached city officials to ask for assistance in their revamping efforts earlier this year, according to Caldwell. The city offered to contribute approximately $25,000 worth of in-kind labor from DPW.
"All we contributed was in-kind services in the form of labor from the DPW crew. Back in the spring, Eric Larsen from Friends of the Museum District came and asked if we would be willing to help in any way, and we authorized up to, I believe it was $25,000 in in-kind services, to provide the labor. And the Museum District's doing everything else, they bought all the material," explained Caldwell.
DPW Foreman Scott Grover said DPW has put in around 130 yards of concrete sidewalks in the Museum District, in addition to their regularly scheduled jobs.
Too bad the "green house" wasn't murdered - that could have served as a another home of historical significance tying in the museum district to downtown Norwich.
Please, login to comment.
---