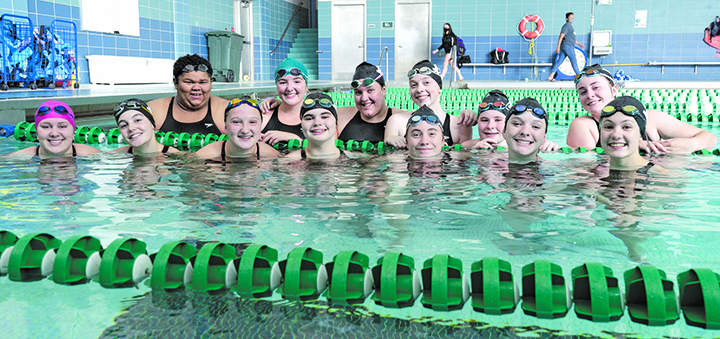 Eva Blenis, Ashley Coombs, Regan Finnegan, Megan Funke, Molley Hannan, Nina Kman, Julia Llewellyn, Tanner Olds, Adrianna Palmer, Emma Palmer, Mikayla Sastri, Aurora Strauch, Isabelle Voss, and Adyson Whaley. (Photo by Zachary Meseck)
ENDWELL- The Purple Tornado girls' varsity swim team chose the right time to be in peak seasonal condition. Norwich had at least one swimmer qualify for the finals in 11 of the 12 events held at the Section IV Class B preliminary meet held on Wednesday November 3 at Maine-Endwell High School. Those who placed in the top 16 earned a berth in the Section IV final to be held on Saturday November 4, also at Maine-Endwell High School.
In the 200 yard medley relay, Norwich's quartet of Eva Blenis, Meghan Funk, Julia Llewellyn and Adyson Whaley earned a spot in Saturday's final placing fifth in a time of 2:11.69. Whaley later placed ninth in the 50 yard freestyle with her time of 28.96 seconds. In the 100 yard butterfly, Llewellyn and Funk placed ninth in 1:14.37 and 13th in 1:17.80 respectively.
Meghan Funk placed sixth in the 100 yard breaststroke in 1:21.71. Purple Tornado teammate Adyson Whaley placed 12th in the same event in a time of 1:25.17.
A trio of Norwich athletes qualified in the 200 yard freestyle as Nina Kman placed first in 2:06.23, Mikayla Sastri placed ninth in a time of 2:16.13 and Tanner Olds finished tenth in 2:18.55. The trio of Kman, Sastri and Olds also qualified for the 500 yard freestyle finals. Kman timed 5:42.93 to place first, Sastri timed 5:55.64 for third place and Olds finished in 6:11.92 for seventh place.