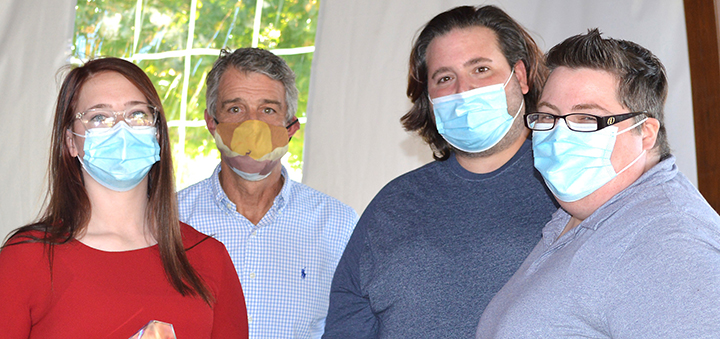 Pathfinder Village President & Chief Executive Officer Paul Landers presents a Community Hero Award to Dr. Adel Herge of the Occupational Therapy Program at Thomas Jefferson University, Philadelphia, for her continuing mentorship of staff and the development of training courses for Direct Support Professionals at Pathfinder Village. Mr. Landers also presented a Program Excellence Award to members of the Adult Day Services team, Roxanne Mills, Coordinator Michael Cornell, and Rose Davis, for their department's efforts in creating community based opportunities for people with developmental disabilities. Other honorees included Pete Smith and the Casualty Department of NYCM Insurance, Edmeston, for their volunteerism in support of Pathfinder Village, and Chenango House, for the staff's consistently excellent and compassionate care of aging individuals with disabilities. (Photos from Pathfinder Village)
EDMESTON – Pathfinder Village recently announced service awards to recognize individuals and programs that exemplify leadership and advocacy, part of its observance of October as National Down Syndrome Awareness Month.
Community Hero Awards were presented at Pathfinder's Family Day on Saturday, October 2, and honor those who consistently support Pathfinder residents, programs, and initiatives. This year's recipients include Pete Smith, Business Unit Manager, and the Casualty Department at NYCM Insurance, Edmeston, for their volunteer efforts. Department employees help behind-the-scenes at many Village events, and for several years, the employees have organized Cruise-Ins and Ice Cream Socials for the enjoyment of the entire community.
Associate Professor Adel Herge, OTD, OTR/L, FAOTA, of the Occupational Therapy Program, Thomas Jefferson University, Philadelphia, also was recognized with a Community Hero Award for her mentorship and for implementing training courses for Pathfinder's Direct Support Professionals (DSPs). With Dr. Herge's partnership and guidance, eight staff were graduated with DSP 3 certifications this summer; these staff successfully completed rigorous coursework over 8 months focused on best practices and daily care strategies for aging persons with dementia and other advanced needs.
Program Excellence Awards were presented to Pathfinder staff members in its Adult Day Services for the department's efforts in creating community-based opportunities for adults with disabilities through its Pathfinder Produce and Mobile Market food delivery projects. A second Program Excellence Award was presented to the direct care staff at Chenango House, Pathfinder's home for aging and medically fragile adults.
October also marks the 25th anniversary of Pathfinder Village's outreach and education arm, the Kennedy Willis Center on Down Syndrome. The Center is a national resource that provides best practices, training, research and development to families, professionals, and the disabilities community. Center Director Brittany Goodrich and Dr. Herge, a board member of the Center, were featured in a webinar on October 4 on keeping aging individuals with Down syndrome socially engaged and active. This webinar was co-presented with LIFEPlan CCO NY, Utica, and is available for viewing at the Center's website: kwcdownsyndrome.org.
  Pathfinder Village is an internationally respected open-access community and services provider in upstate New York and was founded in 1980 to provide people living with Down syndrome and other disabilities an independent and fulfilling lifestyle. As it works to provide quality supports for individuals with intellectual disabilities, the Village also offers highly successful educational, day services, pre-vocational and outreach programs.  To learn more, visit pathfindervillage.org or visit our fan page on the popular social networking site, Facebook.
– From Pathfinder Village