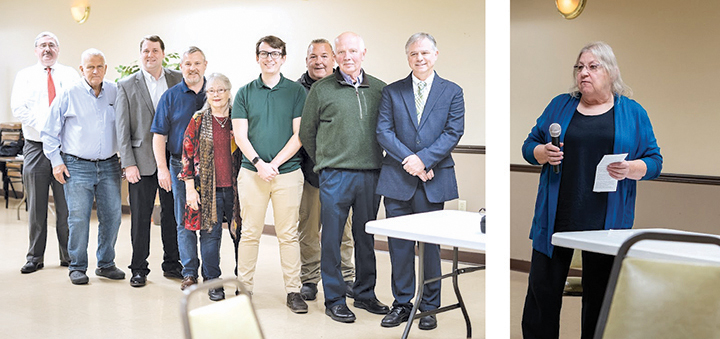 Some of the candidates running for various positions in the upcoming November 2 election at the candidates' forum. Pictured is County Sheriff candidate Ernest Cutting, County Clerk candidate Bill Smith, Ward 6 Alderman candidate Robert D. Jeffrey, County Clerk candidate Brian Wessels, Ward 4 Alderman candidate Linda Kays-Biviano, Ward 2 Alderman candidate Thomas Cornelia, Mayoral candidate John Quattrocchi, Ward 2 Alderman candidate Fred Gee, and Mayoral candidate Brian Doliver. (Right) County Sheriff candidate Debra Cubbedge speaking to voters at the forum. (Photos by Zachary Meseck)
NORWICH — On Saturday, October 17, candidates running in this year's election convened at the Norwich American Legion for one of their last chances to meet with voters before election day.
In attendance were Mayoral candidates John Quattrocchi and Brian Doliver, Ward 2 Alderman candidates Fred Gee and Thomas Cornelia, Ward 4 Alderman candidate Linda Kays-Biviano, Ward 6 Alderman candidate Robert D. Jeffrey, City Supervisor candidate Jim McNeil, County Sheriff candidates Ernest Cutting and Debra Cubbedge, and County Clerk candidates Bill Smith and Brian Wessels.
Candidates in contested elections were given time to speak in front of an audience to explain their views and policies, and answer questions from voters. It is estimated that approximately 50 people attended the forum.
Topics covered with the candidates ranged from drug abuse in Norwich, gun laws, local businesses, COVID vaccines, and more.
Co-organizer Matthew Caldwell said he considered the event a success, and that the forum served its purpose of being an educational experience for voters.
"I believe the candidates that attended felt like it was valuable. There were a lot of great conversations and questions asked from and among the folks that attended, and overall I think it was a successful event that we were very satisfied with," he said.
Karol Kucinski, also a co-organizer of the forum, explained to voters at the event that it was meant to help build interest and involvement in local politics.
"Matt and I think of these forums as a chance to help build and enliven political community involvement and interest in local affairs. And we are committed to inviting, you know, all the candidates; Democrats, Republicans, Libertarians, what have you," said Kucinski.
Caldwell added that he hopes to hold forums like this one for future elections.
"There's some big races next year, and we'd love to have those candidates that will be running again, or have not announced yet, to participate so that we can use the forum in a similar fashion in the future," he said.
Election day is scheduled for Tuesday, November 2.
A full audio recording of the candidates' forum can be found at this address: https://bit.ly/3B10yLr