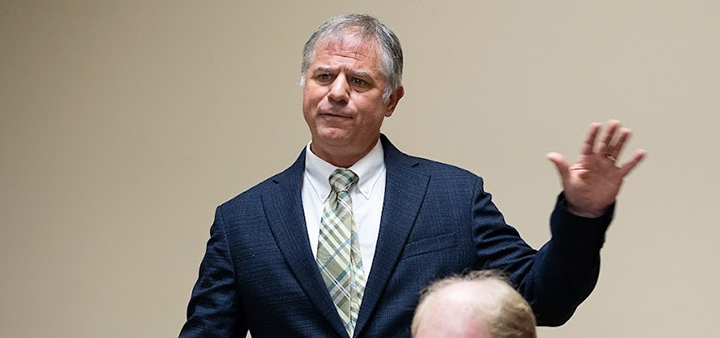 Mayoral candidate Brian Doliver speaking at a candidates' forum held on Saturday, October 17. (Photo by Zachary Meseck)
NORWICH — Ward 2 Alderman and mayoral candidate Brian Doliver will be holding a meet and greet this Saturday, October 23, from 9 to 11 a.m., at Deja Brew in Norwich.
Doliver, who has served as Ward 2 Alderman for eight years, said his greatest strengths in the mayoral role would be his experience in and knowledge of local government.
"I do feel my experience and working with government and working with people puts me in the best position for being mayor, in collaboration with others," he said. "I think my best attribute that I can bring to the table is my knowledge of the government and the complexity [of it]."
Visitors can expect a "relaxed atmosphere," and a chance to meet the candidate, hear about his policies, and ask questions.
"They can come in and really talk to me, at their convenience, and talk to me about anything that concerns them," said Doliver. "What I want to contribute on Saturday is, talk to people, and bring all the tough questions. I love them. The harder the better."