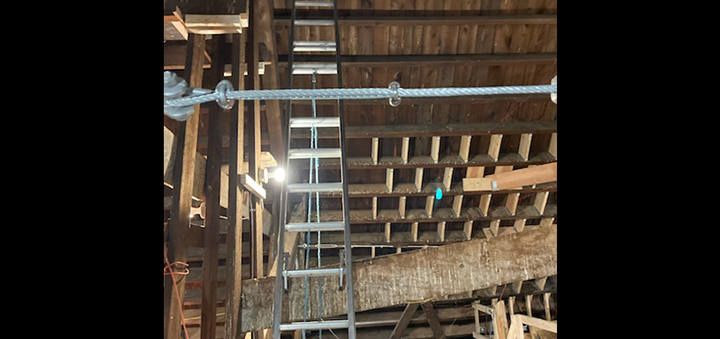 Inside the church, repairs are well under way. Shown in this picture is blocking that is being put between each rafter, to act as reinforcement and support within the structure. (Submitted photo)
NORWICH — Repair efforts on the nearly century and a half year old Broad Street United Methodist Church are still ongoing.
Constructed in 1875, the structure is known as the tallest building in Chenango County. In 2018, repair efforts began in earnest after damage to the roof was discovered.
"The minister called a number of us up on a weekend and said, there's water running down a wall. I went in on Monday and there are trash cans filled with water, so we began carrying them out. Then we began going upstairs to where the leaks are and said, my goodness. Are we open to the elements here? Well, pretty close," said Allan Strong, who has been overseeing the repair projects.
The major problems that were discovered included bowing rafters, splitting shingles, and bricks being expelled from the building.
"The rafters are bowing. The weight of the roof is pulling things down. And putting a roof on that, the shingles over time come down with that bowing and they begin to split and tear apart," said Strong. "The first time I went up with another person, we look around and the South steeple, on the Northeast corner inside, had a lot of cracks and bricks being pushed apart ... Water comes down, collects around the bricks, freezes, expands, freezes some more, until you've broken the bonds between bricks and mortar."