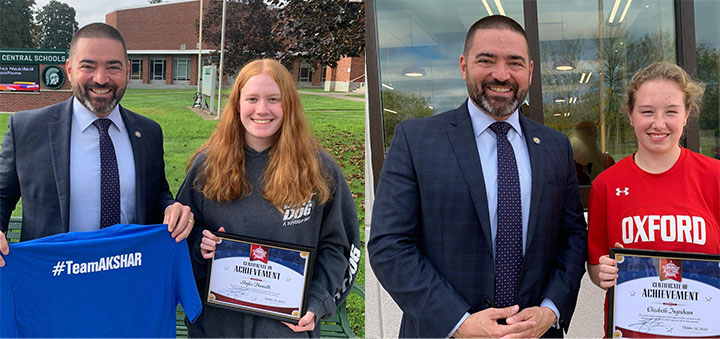 Senator Fred Akshar with Chenango County "Akshar's All-Stars," Oxford Middle School student Elizabeth Ingraham (right) and Greene Central High School student Skyler Nowalk (left). (From the office of Fred Akshar)
CHENANGO COUNTY — Senator Fred Akshar will kick off the fourth year of his district-wide "Akshar's All-Stars" student recognition program on Tuesday, October 12, by recognizing students at three Chenango County schools: Greene Central High School, Oxford Middle School, and DCMO BOCES.
Senator Akshar recognizes local students selected by their school districts in the 52nd Senate District who have shown great leadership, compassion, school spirit, or improvement among their peers.
Since starting the program, Akshar has recognized over 80 students across school districts in Broome, Tioga, Chenango, and Delaware counties.
For each student recognized as an "Akshar's All-Stars", Senator Akshar will present them with a t-shirt and a framed certificate.
-From the office of Senator Fred Akshar