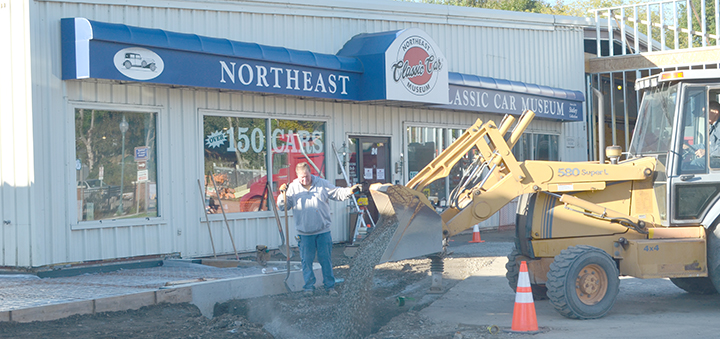 Work being done in front of the Northeast Classic Car Museum. Upgrades in the Museum District are expected to be completed by late October or early November, depending on weather and material availability, and are estimated to cost around $1 million. (Photo by Tyler Murphy)
NORWICH — The Museum District in Norwich is getting a $1 million makeover, funded by a mix of grants and donations from local organizations.
The area, located on Rexford Street and spanning from the North Broad Street and Silver Street intersections, is getting new sidewalks, lighting, signs, landscaping, and more.
Local organization, the Friends of the Museum District, is working on things like landscaping, new sidewalks, and lighting, estimated to cost over $400,000, according to Co-chair Eric Larsen.
He said local museums are working on their own projects as well, but have teamed up with Friends of the Museum District to create a master plan for the area, and ensure all upgrades are cohesive.
"There is a group of people called the Friends of the Museum District that have helped both initiate some of the work and also worked in conjunction with the museums that are in the area to make sure that all the improvements that each entity is doing all kind of ducktail together," said Larsen. "Our plans include new sidewalks, landscaping, new curbing, new lighting, some signage for the Museum District. All those things to kind of make the district identifiable, it's own thing."