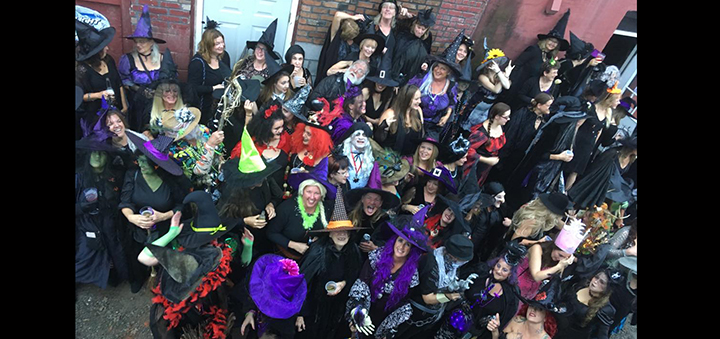 A group of participants in the 2019 Witching Good Time. The fundraiser will return this Saturday, October 2, and will begin at 2 p.m. at Rita's Tavern. Admission is $8. (Submitted photo)
NORWICH — The annual Halloween fundraising event to benefit the City of Norwich Youth Bureau, "Witching Good Time," is back for it's sixth anniversary. The event will be held this Saturday, October 2, beginning at 2 p.m. at Rita's Tavern, and will cost $8 to attend.
The Witching Good Time originally began as a way for friends to celebrate Halloween out on the town, dressed as witches, according to founder and organizer Sarah Lorimer.
"It started because I didn't have anything going on the first week in October. Usually each weekend I have something going on, between my kid's parties, adult Halloween parties, and going out in town for dressing up," said Lorimer. "When we first started we had 28 people that dressed up as witches and we proceeded to bar hop, and then come back to Rita's."
From there, interest in the bar hop grew. Lorimer explained that people began reaching out to her for more information on what they were doing.
"People saw us and then asked about it, and then we put it on Facebook and started doing event pages for Rita's, specifically," she said.
As interest and participation grew, Lorimer decided to adjust the event to accommodate the larger crowds. So, in 2019, the Witching Good Time was transitioned from a bar hop to a fundraiser located at Rita's.