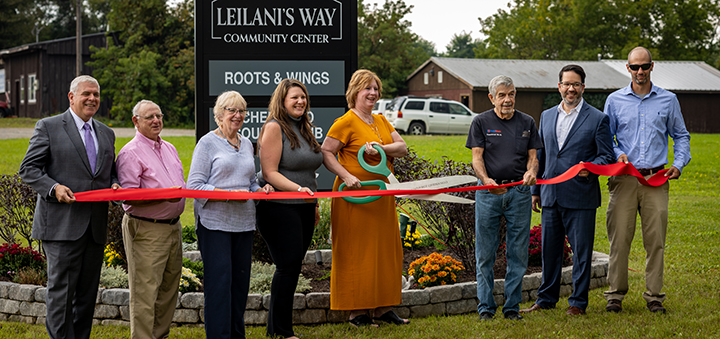 Assemblyman Joseph Angelino, John Franco from the R.C. Smith Foundation, Mary Davis from the R.C. Smith Foundation, Commerce Chenango President and CEO Kerri Green, Catholic Charities Executive Director Robin Cotter, donor Donald Westcott, Catholic Charities Board President Steve Natoli, and donor Jeff Chesebro performing the Leilani's Way ribbon cutting ceremony, in front of a flower garden dedicated to Marilyn Kochersperger. She joined the Catholic Charities Board in 1983, and played a large role in building Chenango House, a center for those suffering from severe mental illness. (Photo by Dustin Genter of 5th Dimension Photography)
NORWICH — Catholic Charities of Chenango County held a ribbon cutting ceremony for their new facility, Leilani's Way, on Wednesday, September 15.
Leilani's Way is split into three suites, each containing a different organization that provides assistance to the Chenango County community, according to Catholic Charities Executive Director Robin Cotter.
"There's the Addiction Center of Broome County, and the Chenango County Behavioral Club. They're independent, they lease those spaces from us," she said. "We have the Roots and Wings program there, and the services we offer in the building are: we have the food pantry, the household goods and clothing sales, thrift store I guess you could call it. We offer insurance enrollment through Fidelis and Molina. We have NOEP enrollment, that's for food stamps."
The $1,110,000 community center, located at 105 Leilanis Lane in the Town of Norwich, was made possible by the generosity of local organizations and donors, including Don and Karen Westcott, Care Compass Network, Mother Cabrini Health Foundation, the Greater Norwich Foundation, the Follett Foundation, the R.C. Smith Foundation, and more.
Cotter explained Catholic Charities was looking into renovating their former facility, located on Berry Street in Norwich, but it was more cost-effective to build the new center. From there, she said they reached out to clients to ascertain the needs of the community.