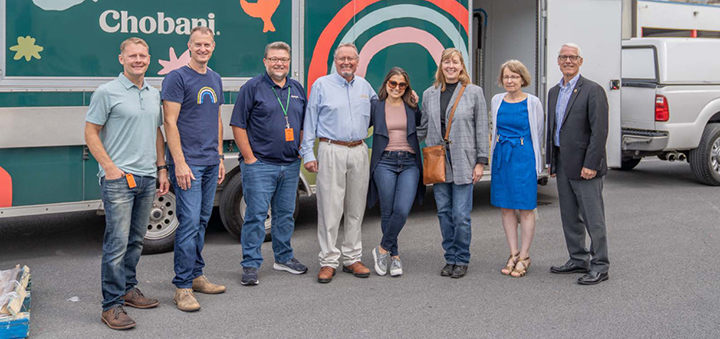 Chobani Vice President of Operations Nathan Gundlach, Chobani Community Engagement Team Member Don Brown, Chobani Vice President of Corporate Affairs Mark Broadhurst, New York State Agriculture Commissioner Richard A. Ball, Chobani Chief Corporate Affairs Officer Cristina Alesci, The Center Executive Director Shelly Callahan, Town of Columbus Supervisor Diane Scalzo, and New Berlin Mayor Peter Lennon. (Submitted photo)
NEW BERLIN — On Tuesday, September 14, Chobani invited government officials to their facility in New Berlin to assist in packing 300,000 of their products onto trucks, which will be delivered to victims of Hurricane Ida, as well as Afghan refugees currently in Virginia and New Jersey.
"We packed the 'Cho truck' as we like to call it. It's the first of three trucks that we're sending with 300,000 products to neighboring areas in New York," said Chobani Chief Corporate Affairs Officer Cristina Alesci.
"To New York, to New Jersey, to Louisiana, for people impacted by Hurricane Ida. You know, there's still people who are displaced and trying to put their lives back together because of the hurricane. And at the same time, there are military bases in Virginia and New Jersey that are accepting and housing Afghan evacuees and we're sending product there as well," she continued.
Products being sent include everything Chobani produces, from yogurt to probiotics, according to Alesci.
"We're sending the whole shebang. We're sending coffee, oat milk, coffee creamers, probiotic drinks, the whole kit and caboodle of what we make," she said. "Chobani, of course, people know and love us for our yogurt, but we're so much more than that now."