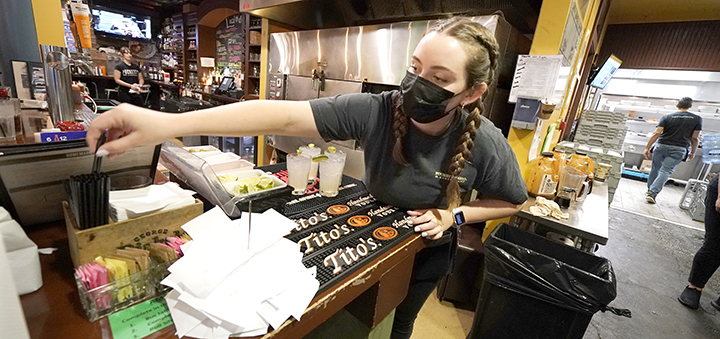 Mariah Tabb prepares drinks at Puckett's Grocery and Restaurant, Friday, Sept. 10, 2021, in Nashville, Tenn. In Nashville, tourism has come back faster than downtown office workers following COVID. Nashville's reputation as a tourist destination is buoying restaurants while other businesses in other downtown areas have had to adapt as offices remained closed and workers stay home. (AP Photo/Mark Humphrey)
By MAE ANDERSON and TOM KRISHER AP Business Writers
NEW YORK (AP) — Downtown businesses in the U.S. and abroad once took for granted that nearby offices would provide a steady clientele looking for breakfast, lunch, everyday goods and services and last-minute gifts. As the resilient coronavirus keeps offices closed and workers at home, some are adapting while others are trying to hang on.
Some businesses are already gone. The survivors have taken steps such as boosting online sales or changing their hours, staffing levels and what they offer customers. Others are relying more on residential traffic.
Many business owners had looked forward to a return toward normalcy this month as offices reopened. But now that many companies have postponed plans to bring workers back, due to surging COVID-19 cases, downtown businesses are reckoning with the fact that adjustments made on the fly may become permanent.
In downtown Detroit, Mike Frank's cleaning business was running out of money and, it seemed, out of time.
Frank started Clifford Street Cleaners eight years ago. Pre-pandemic, monthly revenue was about $11,000, but by last December, when many downtown offices had to close, revenue had dropped to $1,800, Frank said.
Frank had to borrow money from his wife to pay the bills. "It got down to, I was almost ready to go out of business."