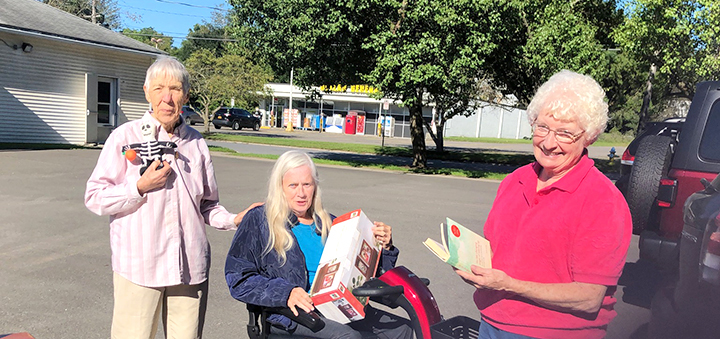 (L to R): Audrey Johnson, Alice White and Judy Ives getting ready for the Habitat fundraiser this Friday and Saturday. (Photo by Sharon Benjamin)
OXFORD – There will be a huge "don't miss," upcoming fundraiser that will benefit the Chenango County Habitat for Humanity (CCHH).
The two-day Habitat Yard Sale will be from 8 a.m. to 5 p.m., on Friday, September 17, and Saturday, September 18.
The address is 16 North Canal Street in Oxford (just north of NBT bank), next to the Mirabito gas station.
You're bound to find something of interest at this yard sale as there will be housewares, old and new; collectibles; crafts; and everything in-between. You may find furniture, tools, electronics, antiques, clothing, plants, books, fabrics and a whole lot more. Proceeds benefit CCHH's small works house projects.
Habitat for Humanity offers "a hand up, not a handout". Habitat is looking for donations and volunteers! Help Habitat make dreams come true by helping to provide affordable housing to families in Chenango County.
Call Audrey Johnson (607) 843-6249; email: seatweaving_comics@yahoo.com for more info. Visit https://www.chenangohabitat.org for more about CCHH.