Health Care Workers Protest Possible Vaccine Mandates Outside CMH
Published: September 8th, 2021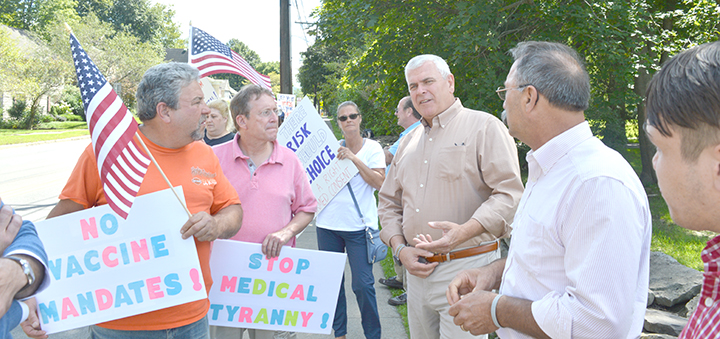 Assemblymen Joe Angelino and John Salka discussing the mandate with protestors. (Photo by Alan Stevens)
By Alan Stevens
Sun Contributor
NORWICH – Protestors organized outside of the Chenango Memorial Hospital Tuesday, demonstrating against a mandate placed on employers to create new workplace safety guidelines against COVID-19.
The HERO Act was updated to include COVID-19 as an airborne infectious disease on Monday.
A point of contention was raised by frontline workers opposed to COVID-19 vaccines, arguing that they will be forced to receive them or lose their jobs.
Assemblymen Joe Angelino and John Salka attended the protest.
Both assemblymen chose to attend the event to support workers against the mandates.
---
Comments
Decisions have consequences which must be part of the decision.
Ridiculous statement, given the huge numbers now in Norwich Chenango County. All health care workers need to be vaccinated. Take a look at today's numbers.
Where to begin. Angelino was a Marine. I am sure he received vaccine upon entering. I am sure they were mandated. Did he refuse those? How many patients have these healthcare employees seen become deathly ill and passed on due to covid? How many patients have asked for the vaccine and been told, it's to late. What other medical protocols have these healthcare workers disagreed with and refused to administer to patients? vaccine mandates have been around for centuries and will unfortunately be on going. It is a shame that they have politicized the vaccine and the public's well being.
Please, login to comment.
---