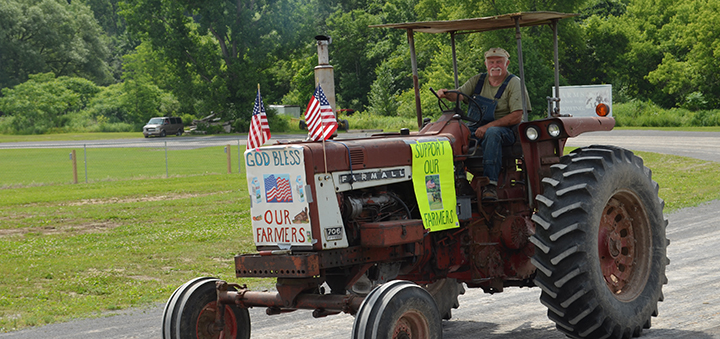 A tractor during the 2021 Chenango County Fair parade. The Cornell Cooperative Extensions for Schoharie, Otsego, and Delaware Counties will be holding the ninth annual Family Farm Day this Saturday, August 28. Participating farms will be open to the public from 10 a.m. to 5 p.m. (Photo by Tyler Murphy)
OTSEGO COUNTY — The Cornell Cooperative Extension (CCE) of Schoharie, Otsego, and Delaware counties is holding their ninth annual Family Farm Day this Saturday, August 28. Forty farms within the counties will be participating and allowing visitors between 10 a.m. and 5 p.m.
Family Farm Day is meant to be a way for the community to learn more about local farms through firsthand experiences. CCE officials described the event as a "behind-the-scenes adventure to experience farm life firsthand."
"See where your food comes from," said CCE officials in a press release. "Take a tour, go for a ride, watch a demonstration, and participate in free hands-on activities for all ages. Explore many sectors of agriculture such as maple sugaring, fruit and vegetable production, bee keeping, cider pressing, wool processing, and dairy production including bottling milk and making cheese."
CCE Agriculture and Horticulture Educator Jessica Holmes said not all farms in the area are participating, but visitors can browse the Family Farm Day website at familyfarmday.org, or check out the 2021 Farm Guide for more information.
"We have our print out brochure that has the map and all the farms on it, and we have an interactive map on our website. So we just ask that people take a look at some of the farms they might want to visit, and then if they could plan out their trip according to where they want to go, it's easier to map out ahead of time," Holmes explained.