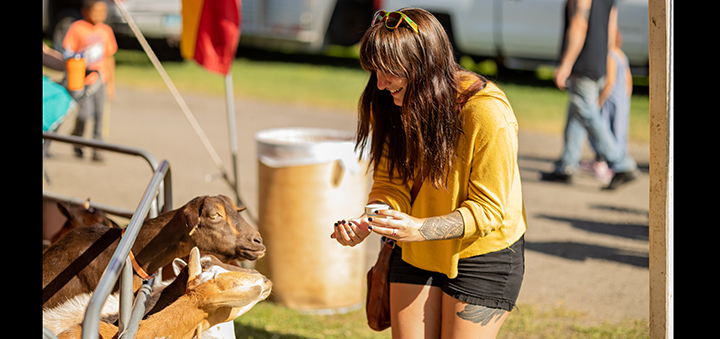 The petting zoo is my favorite part of the Chenango County Fair. This year, the petting zoo was host to goats, a llama, two cows, three parrots, and a camel. (Photo by Dustin Genter of 5th Dimension Photography)
NORWICH — Did you go to the Chenango County Fair when you were a kid? Did you stop in at the petting zoo?
I always did, and it was always my favorite part of the day. I know most of the time it's nothing special; usually just a large pen full of goats. But some years they have horses. Sometimes sheep. This year they even had a camel!
I've been an animal lover since I was a kid, so any opportunity to go see and feed some animals, even if they were just goats, was not about to be passed up.
It's been a few years since I've been to the county fair, thanks to COVID. But this year I made a point to stop in and have a look around. Of course, I made sure to stop at the petting zoo.
This year they had tons of goats, a camel, a llama, a couple small cows, and three parrots! There was also a sign advertising cuddles with a baby kangaroo. I have to say, I was pretty surprised to see they had so many different animals.
I don't know if you've noticed, and maybe it's just me, but there always seems to be an air of calmness in the petting zoo tent. Sure, there's usually kids running around, shrieking as they hand-feed overzealous goats. It can get a little loud, but overall I'd say it's much more relaxing than the rest of the fair.