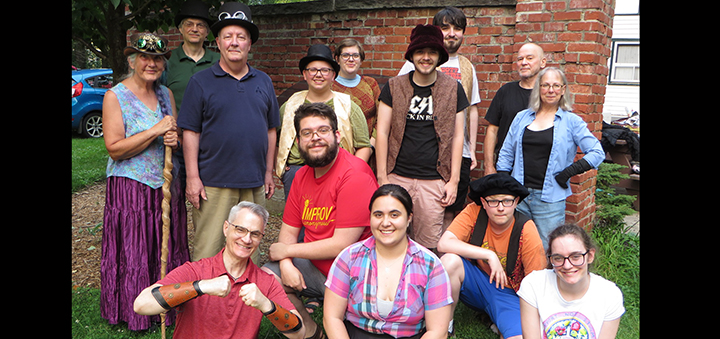 Cast members of the Sherburne Music-Theater Society's production of Shakespeare's "Midsummer Night's Dream," set to debut this Saturday, August 14, and Sunday, August 15. The full cast list includes: John Orr, Max Collins, Susan Galbraith, Jacob Camiel, William Greenman, Molly Stahl, Xena Becker, Bobbi Clarkson, Clark Vischi, Keven Simmons, Levi Brown, Max Collins, Cameron Carpenter, Will Doonan, Lisette Shiffer, Karen Doonan, Jessica Moquin, Amelia Casscles, Susan Galbraith, and Liza Taylor. (Photo submitted by SMTS)
SHERBURNE — The Sherburne Music-Theatre Society (SMTS) will be putting on their rendition of Shakespeare's "Midsummer Night's Dream" at 6 p.m., this Saturday, August 14, and at 3p.m., Sunday, August 15.
The show will be held in Gaines Park in Sherburne, located next to the Sherburne Public Library. The performance will be completely free to attend, but SMTS board members are asking for free-will donations.
"Both family-friendly performances are free-will donation. Actors will be passing a hat for those seeking to make a donation to Sherburne Music-Theatre Society," said SMTS board members in a statement.
SMTS Board Member and Director Michael Moren was inspired by two outdoor Shakespeare performances he saw, put on by SUNY Geneseo and Perry, NY.
"Both of these shows were done with little or no scenery," Moren said. "I realized that Shakespeare productions were all about the words and acting. It was these two shows that prompted me to propose that SMTS try some Shakespeare in the Park of our own."
From there, the idea grew. Moren and SMTS Board Secretary and Director Colleen Law-Tefft decided to add some modern-style music pieces to the show. Their rendition of "Midsummer" will also stay true to the original storyline, but with an exciting twist: all the actors will be performing in steampunk style costumes, according to Law-Tefft.