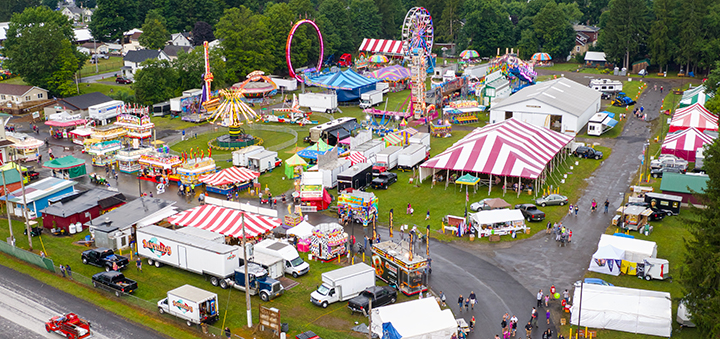 Organizers say that even with slight schedule changes and a few modifications to satisfy COVID guidelines, they expect a big turnout for the 174th annual Chenango County Fair.(File Photo)
NORWICH - Happy for the chance to put on a county fair this year, fair organizers say changes are afoot for Chenango County's premier gala of farming, fun, and food.
The 174th annual Chenango County Fair will take place Wednesday, Aug. 11 through Sunday, Aug. 15 at the fairgrounds on East Main Street in Norwich. The five-day event is noticeably one day shorter than previous years to allow more time for the carnival to set up before attendees flock to the fairgrounds.
Another notable change is with this year's firemen's parade which traditionally ushers in the festival through its East Main Street route on opening day. This year, however, the parade will take a new route on the fairgrounds, coming in the back entrance from Maydole Street and working its way to the front of the fairgrounds. Organizers say the path down East Main simply became too costly to insure.
"We really want everyone to be aware well in advance that the parade is going to be on the grounds this year," said fair organizer Mary Weidman, adding that opening day is also free admission. "Because the parade's on the grounds, we wanted everyone to be able to enjoy it."