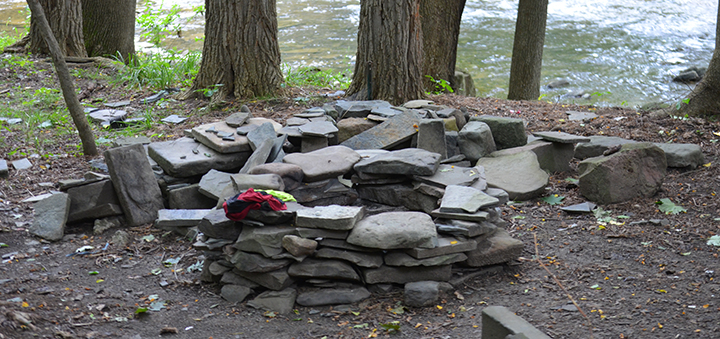 Encampments on West Main Street on the city line in Norwich. Police Chief Rodney Marsh said the city passed a law around 2016 that made it illegal to camp on city properties. He said oftentimes when officers respond to calls about the encampments, officers will tell the individuals to pack up and leave, and they comply. (Photo by Tyler Murphy)
NORWICH — Since January 1 of this year, Norwich Police Chief Rodney Marsh said the Norwich Police Department has arrested 24 people who are considered homeless a total of 104 times. He also said the NPD has received 309 complaints pertaining to homeless individuals.
"Those type of complaints, homeless people, it just seems like a lot now," said Marsh. "It's actually kind of scary, how many people are homeless right now."
The reasons for arrest vary. Marsh explained that oftentimes they are arrested for trespassing at local businesses, or due to outstanding warrants.
"Some of them were new complaints where they were trespassing at a local business where, you know, the business said we don't want you here, you're not allowed to be here anymore," he said. "Some of them are arrest warrants and bench warrants because they're not appearing when they're supposed to be in court."
Marsh was invited to the Health and Human Services Committee meeting on July 26, where he met with Chairwoman Grace Nucero-Alger and also got some feedback from Chenango County Behavioral Health Director Ruth Roberts.
"Every couple days, I was just kind of surprised at how many individuals are homeless," said Marsh, adding that many of them have "pretty much burned their bridges with social services."