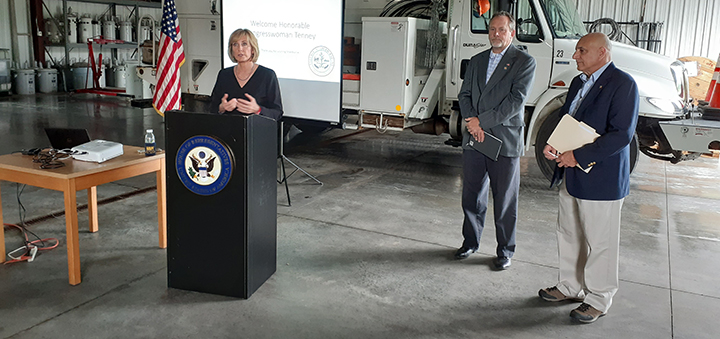 Congresswoman Claudia Tenney (left) announces House Appropriation Committee approval a $212,000 grant that would move a proposed open access internet project forward in the Village of Sherburne. Tenney was joined by New York State Senator Peter Oberacker (middle) and Sherburne Mayor William Acee (right) for the announcement at the Sherburne municipal building on Wednesday. (Photo by Shawn Magrath)
SHERBURNE - A big proposal to create a municipal internet service in Sherburne took one step closer to fruition this week as village officials reached a milestone in their effort to obtain federal funds to help them carry out the project.
Congresswoman Claudia Tenney announced at a press conference Wednesday that the Congressional House Appropriations Committee approved a $212,000 grant request she made on behalf of the Village of Sherburne. The proposal seeks to expand rural broadband services in and around the village.
The expansion, according to village officials, would make the area more competitive by offering fast, affordable internet to Sherburne electric customers whose internet options lag behind the rest of the state.
"As we all know, in today's world, the internet can determine your future and it can determine your destiny. It shapes your access to education, healthcare, and employment opportunities. We've seen that all too well during the pandemic," said Tenney. "Unfortunately, a lot of our communities do not have the opportunities that others do."