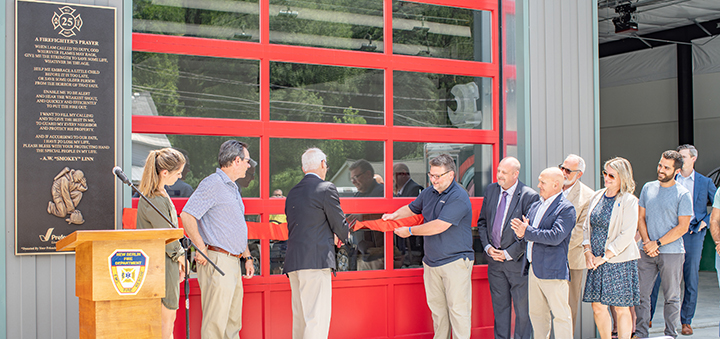 Cassie Treen (Chobani), Bill Cole (Gates Cole Insurance), New Berlin Mayor Peter Lennon, Chobani VP Mark Broadhurst, NBT Bank Manager Brian Burton, NY Pizzeria owner Frank Baio, Golden Artist Colors CEO Mark Golden, Michelle Graham from Preferred Mutual Insurance, Dan O'Reilly from Principle Design Engineering, and Luke Halberg of NBT Bank. (submitted photo)
NEW BERLIN – The Village of New Berlin welcomed the opening of the new firehouse and community center on Wednesday, largely in thanks to contributions from Chobani, and several other local businesses.
The project was proposed in 2019 and received support from local employers hoping to improve fire service in the area.
With help from New York State, the project raised about $1 million for construction. The original building was built in 1971 and has been plagued with a host of growing structural and other issues in recent years.
The new 7,000 square-foot firehouse includes six garage bays, offices and separate rooms for gear, meetings, training and storage. The 2,400 square-foot community center contains a kitchen area and large gathering space so that the fire department as well as local residents and businesses can host events.
Corporate donors for this project include: Chobani ($650,000), Preferred Mutual ($150,000), Golden Artists Colors ($30,000), the Masonic Temple ($25,000), NBT Bank ($20,000), Gates-Cole Insurance ($1,000), and New York Pizzeria ($1,000). The firehouse is also supported by New York State, which has provided a $150,000 grant that was secured by New York State Senator James L. Seward (R/C/I/Ref-Oneonta).
The design of the firehouse and community center was led by Michael O'Reilly, Managing Director of the Norwich firm Principle Design & Engineering.
- Sun Managing Editor Tyler Murphy