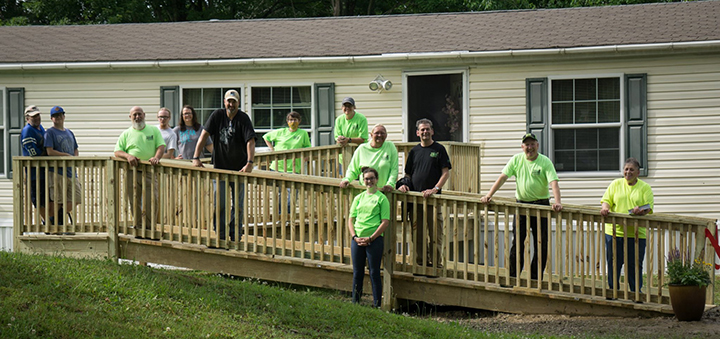 The Impact Project helps homeowners for free, pictured is an event last year during he height of the COVID-19 pandemic where volunteers built a new ramp for a Chenango County homeowner. (Submitted photo)
CHENANGO COUNTY – The Impact Project is a nonprofit dedicated towards helping people stay in their homes at no cost to the homeowners, and they still have the resources to help more than a dozen families throughout Chenango County this year.
According to The Impact Project Executive Director James Willard III, homeowners throughout Chenango County need help, and if they fill out his organization's short application then they could receive it for free.
"Anybody can apply to the Impact Project, we will take an application from anyone regardless of their background," said Willard. "We can't help everybody, and there are services that we don't do but people can find all of that information on our website, theimpactprojectgreene.org along with the application."
"The one thing I say to people all the time is that you can't get a yes if you don't ask; if you don't ask you've already got your answer, at least if you ask and you have a chance of somebody fixing your problem for free."