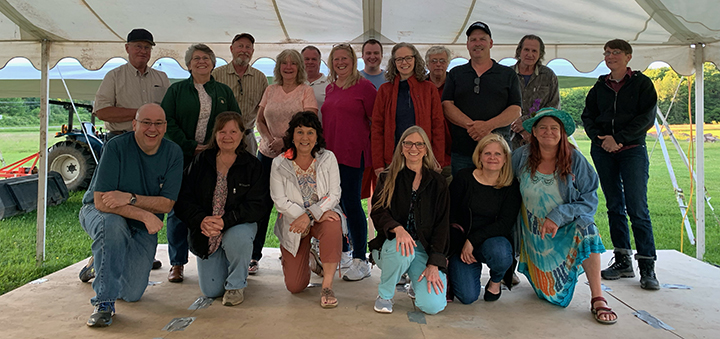 Some members of the Bullthistle Beekeepers at Thursday's meeting. The meeting was the first the group has held since before the pandemic began, and was host to nearly 30 participants. (Photo by Sarah Giglio)
NORWICH — A local group of avid beekeepers, Bullthistle Beekeepers, met at Hidden Springs Brewhouse on Thursday, marking their first meeting since the start of the COVID-19 pandemic.
The meetings are open to the public, meaning anyone with even a passing interest in bees or beekeeping can attend. Thursday's meeting had a massive turnout, with nearly 30 participants, including some new faces.
"I am so happy that we're all together again," said group leader and 15-year beekeeper Candy Boise. "I'm so glad to see everybody. And I'm so glad to see all the new faces. This is great."
Boise first started holding the meetings approximately ten years ago. She said the group has gone through several changes in those years, including splitting off from another group, and changing meeting locations.
"We started in Fly Creek, but they wanted to be an association and we didn't want to be an association. We didn't want to pay dues or any of that. So we 'swarmed' and we started having meetings at the Deer Path in New Berlin, and then we went to Taylor's and we were at Taylor's until the pandemic," said Boise.
The purpose of the meetings is to discuss beekeeping topics, give advice, and allow participants to ask questions.