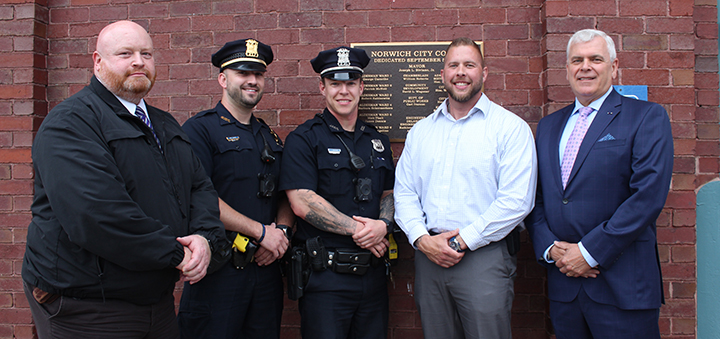 Officers of the Norwich Police Department were praised and thanked by the Norwich Common Council and Assemblyman Joe Angelino for their efforts during an incident on Cortland Street last Thursday. (Left to Right): Chief Rodney Marsh, Officer Ryan Legacy, Officer Tyler Dexheimer, Detective Matthew Roberts, and Assemblyman Joe Angelino. (Photo by Sarah Giglio)
NORWICH — During Tuesday's Common Council meeting, members of the Norwich Police Department were commended for their actions during an armed stand off along Cortland Street last week.
According to police during the incident officers had a loaded shotgun aimed at them, and it was fired once by a suspect into a wall. The man was taken into custody a short time later while attempting to flee. No one was seriously injured.
The incident occurred on Thursday, June 10, when one officer responded to a 911 call at 75 Cortland Street. Upon arrival, he first made contact with a neighbor, who warned him the suspect may be armed, according to Norwich Police Chief Rodney Marsh.
"The individual called 911, wasn't really making sense over the phone, saying he didn't feel safe, he wanted police there. So we're like, okay we'll send officers over and have them talk to you. And that's really what the initial call is, that's why only one officer went," said Marsh. "He talked to the neighbor before he made contact with him and found out that he was armed."
From there, more officers responded. Marsh said the NPD officers involved included Detective Matthew Roberts, Sergeant Ryan Legacy, Officer Steve Rounds, Officer Tyler Dexheimer, and Detective Reuben Roach.
Officers were able to bring the suspect into custody without injury. Their efforts and teamwork drew praise from council members, the mayor, and Assemblyman Joe Angelino.