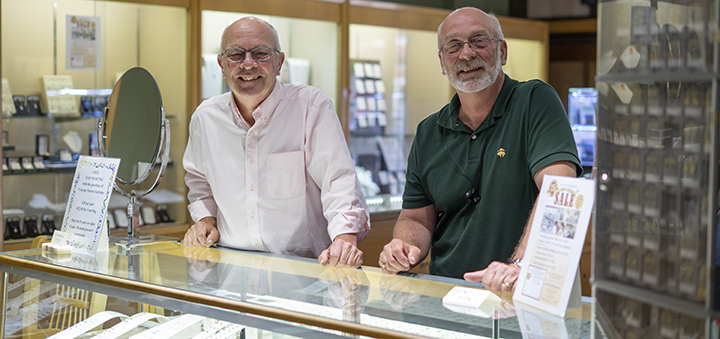 Patrick and James McNeil have continued their family's 75 year-long dedication to the Norwich community, and as a way of giving back have everything in the store 20 percent off along with additional savings. (Photo by Zachary Meseck)
NORWICH – McNeil Jewelers has been an icon in the Norwich community for 75 years, and as part of it's milestone the business will have significantly reduced prices in the store for a limited time as a way to give back to its community.
According to McNeil Jewelers Owner Patrick McNeil, the savings celebration will run from June 1 to June 19, with a storewide discount of 20 percent, even more off select items, and a free gift with every purchase while supplies last.
McNeil said the family jewelry store has been in Norwich for generations, and this sale is just one of the ways it hopes to be able to give back to their community.
"This is a family business, and we consider the community family as well which is part of why we've stayed," said McNeil. "My Dad Robert D. McNeil started on Court Street with a little gift shop," said McNeil. "When he opened up there were seven other jewelry stores in the area."
McNeil said now their business is the only jewelry store remaining in Norwich. He added that while they moved to their current location at 25 South Broad Street in 1974, it has been a family business since 1946.