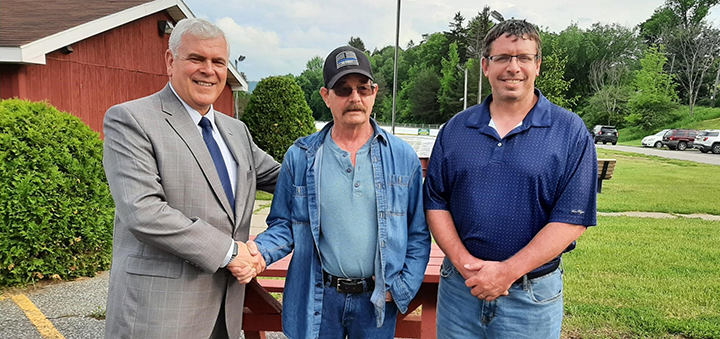 Youth Bureau Director Robert Mason with NYS Assemblyman Joseph Angelino and Norwich Mayor Shawn Sastri at the Borden Avenue skating rink, now renamed the Robert Mason Recreation Center. (Submitted photo)
NORWICH — The skating rink building located on Borden Avenue in Norwich has been named The Robert Mason Recreation Center on Thursday, in honor of Youth Bureau Director Robert Mason.
Norwich Mayor Shawn Sastri and New York State Assemblyman Joseph Angelino presented Mason with a resolution from the City Common Council, thanking him for his years of dedication to the city's youth, and declaring the skating rink building be named after him.
Mason served as director for 25 years, and is retiring this year. In his 25 years, Mason has overseen seasonal programs with 20,306 registrants, and overseen employment in these programs.
"He has been dedicated to providing recreational opportunities for the youth and families of the City of Norwich and the five surrounding townships," said a resolution from the City Common Council. "Robert Mason has enriched the lives of so many of our area youth and their families through is efforts."
This dedication comes shortly after Mason was presented with a plaque from the Youth Bureau, honoring his upcoming retirement.
"Whoever comes in to the Youth Bureau office is gonna have a huge pair of shoes to step into," said YMCA Board Member Jim Wysor. "I can't imagine we'd ever have a Youth Bureau Director as good as Bob Mason has been over the years."
I want to thank Robert for all he's done for the youth of Norwich and the surrounding areas. There are hundreds upon hundreds of children that never would get to leave Norwich during the summer if not for Bob's hard work and dedication. My girls and I have many wonderful summer memories thanks to Bob and his efforts. He's a great man and this community should be grateful for him.
I'm sure Robert deserves all the recognition given to him. Hard work and dedication always deserves recognition. However, I'm against assigning a person's name to anything like this. Just leave the name as it was. All this really does is to give some politician a chance to get in front of a camera and hope it will bring them votes. Park names might better recognize the surrounding beauty of the area around them.
Please, login to comment.
---