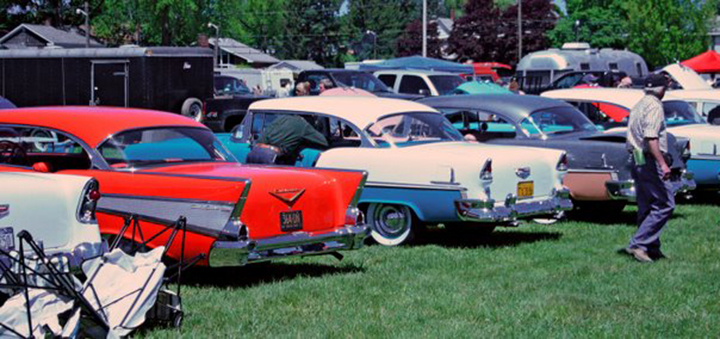 The Rolling Antiquers car show from a previous year. This year, the Rolling Antiquers will be holding a cruise-in on May 29, on East Park Place Street. The event will run from 9 a.m. to 4 p.m. Residents are welcome to bring their own vehicles to the event as well, even if they are not antiques. (Photo submitted by Richard Williams)
NORWICH — On Saturday, May 29, the Rolling Antiquers will be holding a free vintage car cruise-in at East Park in Norwich.
The event, which is paid for in full by the Rolling Antiquers, will run from 9 a.m. to 4 p.m. Spokesman Richard Williams stated that East Park Place Street will be cordoned off, with the capacity to hold 40 cars. Williams also said there will be a continuous rotation of cars.
"When one goes out another one goes in. So there might be cars backed up in the street waiting to go in," said Williams.
COVID-19 guidelines will also be enforced, according to Williams. He stated that visitors will be screened at the entrance, and must show proof of a COVID vaccine, or a recent negative COVID test.
The cruise-in is a relatively new event for the Rolling Antiquers. Williams said the event was added by the organization due to the cancellation of the annual car show the last few years.
"Well the cruise-in is actually a new compliment added because we couldn't have the car show the last couple of years. We put on one of the biggest car shows in the Northeast since about I think 1965," said Williams.