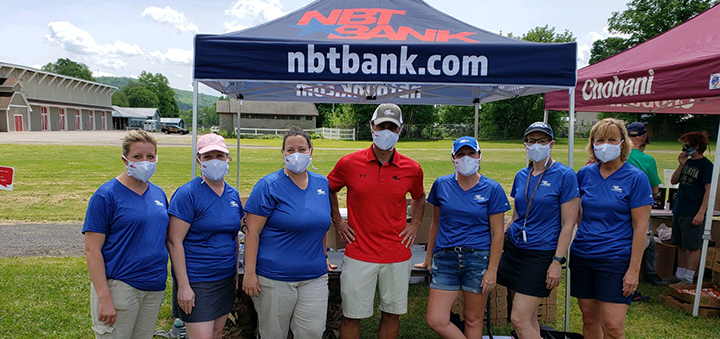 NBT partnered with Morrisville College to distribute food at events held in 2020. NBT and their staff worked with a number of local organizations and businesses to support food distribution and other relief efforts.
NORWICH - As the repercussions of the COVID-19 health crisis took effect, NBT Bank found itself at the center of the response as businesses and customers turned to their financial advisors on how to weather the economic fallout and navigate relief programs.
"COVID made us focus on what's most important, our employees, our customers, and our communities, and that's where our investment was targeted. It was technology-based in terms of ensuring that we had all the products and services that our customers need to use in this kind of environment, so we did a very significant upgrade into our mobile platform," said NBT Bank President and CEO John H. Watt, Jr.
NBT made all its basic services available on a real-time basis through an upgraded mobile app, so customers could get the same services as if they were at their local bank. The bank had been investing in technology and online services for a number of years before the pandemic, following a trend of demand coming from an increasingly tech-savvy customer base. Being well positioned with technology, at least when it came to online customer services, the bank had a solid foundation to expanded upon.