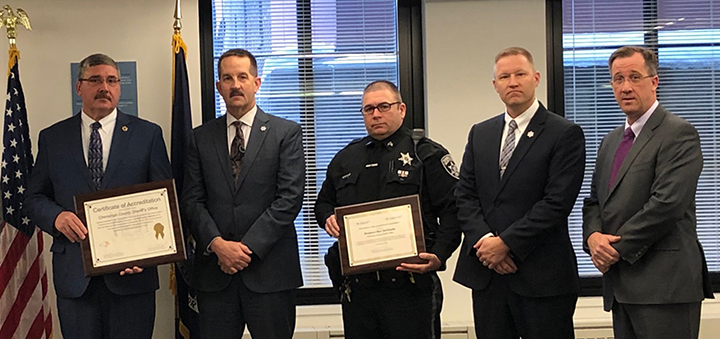 Chenango County Sheriff Ernest R. Cutting Jr., Undersheriff Daniel Frair, Sgt. Ronald Swislosky, Lt. Joshua Gould, and Michael R. Wood, accept an accreditation certificate in December of 2019 presented by NY Deputy Commissioner of the DCJS Office of Public Safety. The Chenango County Sheriff's Office has been accredited by New York State since 1999. The process involves an assessment and review of 109 standards established by the NY Division of Criminal Justice Services.(Submitted photo)
CHENANGO COUNTY – The Chenango County Sheriff's Office has released a community survey to determine how they can better serve their community.
According to Chenango County Sheriff Ernest Cutting, the sheriff's office employs 23 individuals, which includes administration, investigation, road patrol and specialty units. As part of a state mandate, the sheriff's office has released a survey that asks about different aspects of their work, and how they can better serve members of its community.
Cutting said the office serves a population of about 48,000 residents within Chenango County, and in 2019 they handled 17,920 calls for service. He said his goal is to provide the best quality service he can to the residents of Chenango County.
"We strongly value the opinion and input of all county residents and business owners," said Cutting. "We will use the data from this survey to assist with reviewing our current policies, procedures, practices, and operations to better serve you."