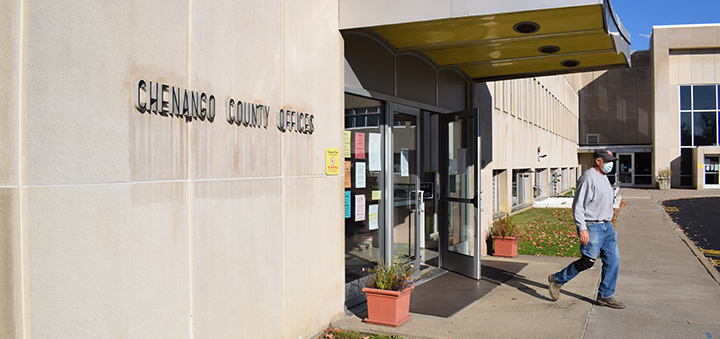 A week ago about 200 Chenango County computers were taken over by a computer virus demanding government officals pay a $450 ransom per computer to unlock the files. Officials at the Chenango County Office building have refused to pay it. (Photo by Tyler Murphy)
CHENANGO – A week ago a cyber attack left about half the computers operated by Chenango County held ransom by hackers, who are demanding officials pay them $90,000 to release the files.
"Over the weekend we were hit by ransomware. We are not paying the ransom," Chenango County Director of Information Technology Herman Ericksen said.
The board of elections warned people Thursday that any absentee ballot application sent by email since Oct. 15, may not be processed due to the cyber attack.
"There has been an incident in Chenango County affecting county systems, including the board of elections, the board has redundancies in place that will allow the secure and effective administration of the general election," said the Board of Elections in a statement. "However anyone who has submitted an absentee ballot application by email or fax since Thursday, October 15, should contact the Chenango County Board of Elections immediately at 607 337-1764 to verify receipt of the application."
"The only hiccup is the email, we've had excellent support from state," said Chenango County Republican Commissioner of Elections Mary Lou A. Monahan. "We are doing everything by fax now, it's more paper work."
Officials were informed Sunday, Oct. 18, than an attacked had happened and a number county employees coming to work on the following Monday found their computers locked.