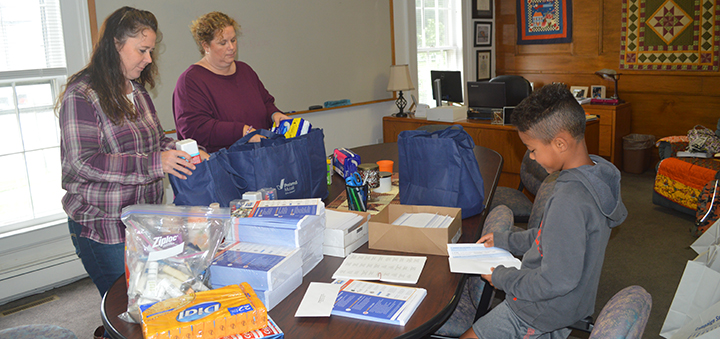 Executive Director Elizabeth Monaco, Business Manager Victoria Mitchell, and special helper Joey Monaco stuff mailers and organize donations. (Photo by Catherine Sasso)
NORWICH – In August the Chenango United Way announced the start of it's 2021 campaign during the Virtual Day of Caring virtual event. The goal amount, just like the year prior, is $425,000.
Executive Director Elizabeth Monaco said that things have been slow for the start of the campaign, but she anticipates an uptick in donations towards the end of October.
"We haven't had much movement here yet. But there are a few businesses that are finishing up their payroll deduction campaign," said Monaco. "We're hoping to fill more of that thermometer at the end of October."
Monaco hopes to wrap up the business payroll deduction campaign by the end of October and anticipates by that time they will be half way to meeting their goal. The campaign runs until the end of December 2020.