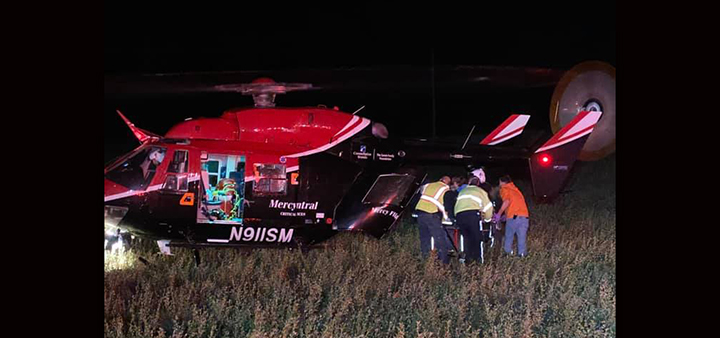 A man was pinned in a vehicle rollover in Pitcher Wednesday night and airlifted to the Syracuse Medical Hospital early Thursday morning following what police describe as a mechanical failure. (Photo by the Marathon Area Volunteer Ambulance Corps)
PITCHER – A man was airlifted after being pinned in a rollover in the Town of Pitcher, but law enforcement said his injuries don't appear to be life threatening at this time.
According to Chenango County Sheriff's Office Lieutenant Joshua Gould, a 911 call was placed around 12:10 a.m. Wednesday night with a report that a man was trapped under a truck after an accident on Pitcher Springs Road in the Town of Pitcher.
Gould said following an investigation it was determined that a male driver was driving with an occupant when his breaks failed. He said the driver wasn't wearing his seat belt, and was partially ejected after taking a turn and rolling over in the vehicle."
"At this point we believe that there was a mechanical failure, and his injuries appear to be made worse because he wasn't wearing a seat belt," said Gould. "It appeared that he suffered from broken legs from being pinned under the vehicle, but overall the injuries didn't seem to be life threatening."