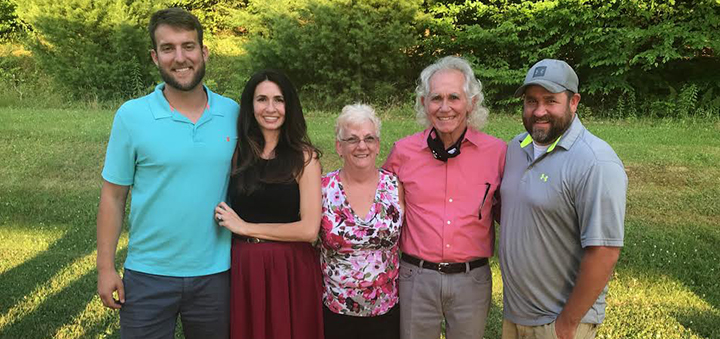 Byron Miller Awarded Greene Lions Club Citizen of the Year... Byron Miller (second from right) is pictured with his family after receiving the Citizen of the Year award from the Greene Lions Club. Pictured right to left: Sean Miller, Byron Miller, Marcia Miller, Rachel Miller and Ben Adams (Rachel's fiancé).
GREENE – The Greene Lions Club surprised Byron E. Miller with its Citizen of the Year Tuesday evening, June 7.
"It's been an award (presentation) long overdue," Lions Club president John Bennett said. "Byron has enhanced the (Greene) community greatly."
Besides the Lions' award, Dan Frair of Greene Rotary, Greene Town Supervisor Joseph Henninge and Greene Village Mayor Phil Brown presented Miller with plaques and proclamations.
Miller, co-owner of Chenango Sales, Inc. and Greene Bowlodrome, served on several different local organizations, most recently the Greene Labor Day Picnic Association, where he was the president for over 25 years, stretching through last year's 100th anniversary.
"You've set an example for the entire community," Bennett said.
"I'd like to thank everyone – I really don't think I am deserving of this award – I just love our village," said Miller, calling it "extremely gracious of everyone."
Miller also asked everyone to support those businesses and activities in the community.
"We need to support ourselves – it starts in our town and village," said Miller, who spoke of the upcoming reopening of The Sherwood Hotel and other new businesses.
Greene Lions Club took over the Citizen of the Year award from the former Greater Greene Chamber of Commerce.