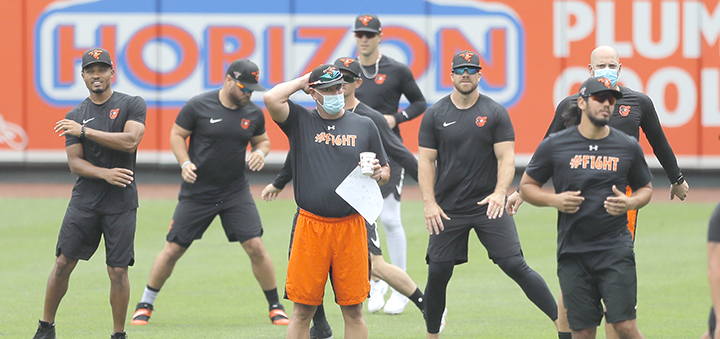 Baltimore Orioles manager Brandon Hyde, center in orange shorts, looks on as his team warms up during baseball training camp, Tuesday, July 7, 2020, in Baltimore. (AP Photo/Julio Cortez)
As baseball nears the two-week countdown to the start of its delayed season, the COVID-19 pandemic continues to keep more players, including Boston Red Sox projected opening day starter Eduardo Rodriguez, off the field.
On Tuesday, one day after Major League Baseball released its 60-game schedule, there was continued evidence of the difficulties caused by the pandemic.
The San Francisco Giants suspended workouts at Oracle Park as they awaited the results of weekend tests for the coronavirus. The Chicago Cubs' workout was delayed.
Oakland left-hander Jake Diekman, who has ulcerative colitis, an autoimmune condition, said teams having to call off workouts because of delays in test results "just can't happen."
"I know they're trying their hardest, but I don't know if that's good enough for right now," Diekman said Tuesday. "It's a little worrisome. Say we go on a 10-day road trip and we only get results one time. That's not very good with 45 or 50 people in a clubhouse at one time."
Giants manager Gabe Kapler said one missed day wouldn't put his club behind. He said he expects the testing process to improve.