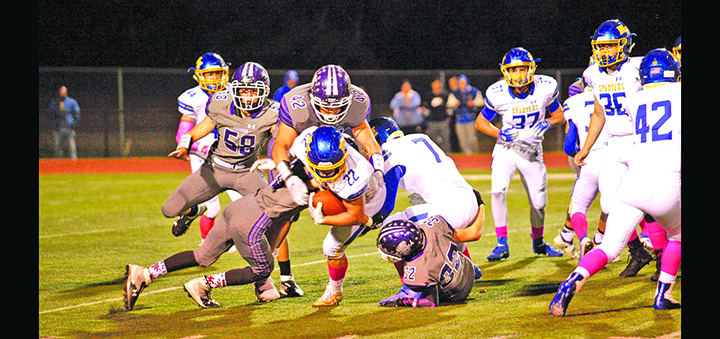 A host of Norwich football players bring down the Maine-Endwell ball carrier during a game last October. Football is considered a high-risk contact sport and will need to meet many guidelines provided by the National Federation of State High School Association (NFHS) Sports Medicine Advisory Committee (SMAC) in order to return this fall following the COVID-19 pandemic. New York State has assembled a task force and will look to use the guidance from the NFHS SMAC in order to have high school sports return to play this fall. (Keith Lanfear Photo)
ALBANY – High school sports are planning to start on August 24 and the New York State Public High School Athletic Association (NYSPHSAA) is taking the next step make the plan become a reality on Wednesday, June 10.
"At this time, we are planning to start fall sports on August 24," Executive Director Dr. Robert Zayas said. "With the uncertainty of the COVID-19 crisis, I want to make sure we are prepared to focus attention on keeping student-athletes engaged in their school communities and active, while also abiding by Department of Health and Governor [Andrew] Cuomo's guidelines. We must have innovative and creative thought to provide beneficial participation playing experiences for students."
After the spring sports season was officially canceled on May 1, the NYSPHSAA president Paul Harrica and Zayas announced there was to be an Ad Hoc Committee for the fall sports season.
By May 12, Harrica – with input from Zayas – finished the selection process for the committee and the names for 24 of the 25 members were released. The task force members selected by the NYSPHSAA president are those of NYSPHSAA-member superintendents, principals, athletic directors and executive directors, in addition to representatives from New York State Athletic Administrators Association and the state's Education Department. The lone member that was not named was someone from the state's Department of Health.