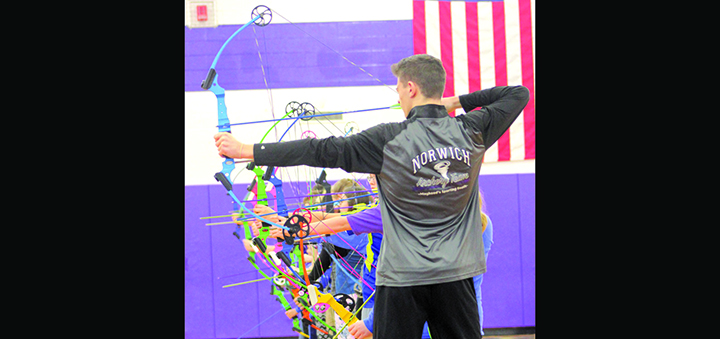 Group of archers aim for the target at the Norwich High School tournament earlier this year. The Norwich Middle School and High School had a strong season with many qualifiying for the national tournament but the event was canceled due to the COVID-19 pandemic. (Submitted Photo)
Four high school archers also earn trip; 11 named as Academic Archers
NORWICH – Many athletes' seasons ended abruptly this school year, and the both the Norwich High School and Middle School Archery Teams were no exception.
Scheduled to attend the New York State tournament in Syracuse on March 20, COVID-19 forced the event to be changed to a school-based tournament.
Instead, members of the teams shot a full bullseye round at the high school gymnasium on March 15 for a virtual state competition with scores then being submitted to the state.
The results were compiled at the state level and the Norwich High School team placed second with a team score of 3038 points while the middle school group finished at the top of the 2020 New York State Tournament field.
Emma Evans placed the highest individually for the team, scoring 251 points for third in the girls division. Teammate Leanna Sayles finished sixth with 222 while Emelia Pepe racked up 208 points for eighth.
In the boys division, Norwich swept the top five spots with each archer recording a personal best for the tournament.
Braden Reid took home the New York State Championship with 275 points while Jonah Adams finished second with 268. Josh Lindridge, who was six points behind Adams, grabbed third place by a point over teammate Jacob Dowdall. Zach Parker rounded out the top five with 253 points. 5th (253).