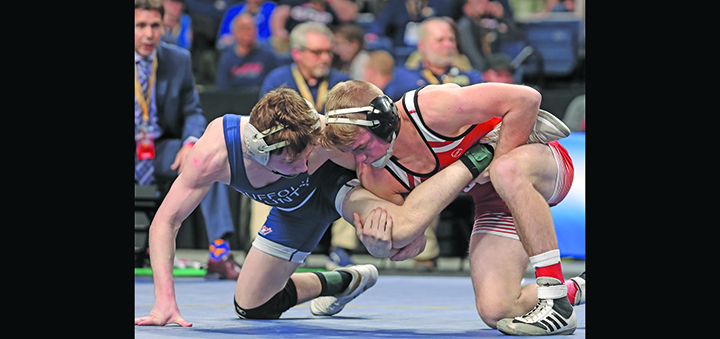 Norwich's Dante Geislinger wraps up the leg of Max Gallagher from Bayport-Blue Point during the New York State Championship match this past February. The Purple Tornado wrestler claimed 3-2 decision win for his third straight state title. Earlier this week, the Norwich Athletic Department announced Geislinger was named to Wrestling USA's All-American Honorable Mention Team. (Keith Lanfear photo)
NORWICH – Many thought when Purple Tornado Dante Geislinger claimed his third straight title, that was the end of the high school recognition as the senior is set to graduate in a few short weeks.
He wasn't quite done as he added another honor to his resume. The Norwich High School Athletic Department announced Tuesday morning Geislinger was named to the Wrestling USA Magazine 2020 High School All-American Honorable Mention Team.
The Purple Tornado senior was just one of four student-athletes named to the honorable mention team for the entire state of New York and was the lone wrestler for the 113-pound weight class.
To be included as one of Wrestling USA's All-American's, the athlete must be nominated and have a long list of accomplishments – both in-season and offseason tournaments including the Super 32 Challenge, Cadet National Championships, and the National High School Coaches Association (NHSCA) Championships.