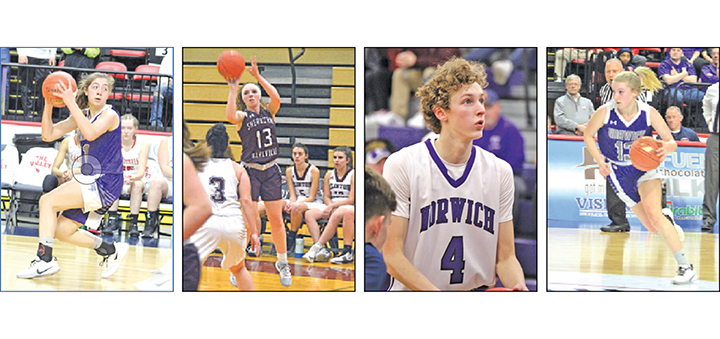 Abby Flynn (Jamey Mullen Photo), Tessa Cole (Meagan Schulz Photo), Carson Maynard (Jamey Mullen Photo), Margaret Dougher (Jamey Mullen Photo)
Four more nab honorable mention selections
NORWICH – A trio of Norwich basketball players and a junior for Sherburne-Earlville were featured on the 2019-2020 season All-State teams while four others from both the Purple Tornado and Greene Trojans rosters were named to the honorable mention teams, wrapping up the winter sports season awards.
Norwich seniors Abby Flynn, Carson Maynard, JT Vinal and Tommy Flanagan were joined by senior Nate Barry of the Trojans to cap off their high school basketball careers with the selection. Junior Tessa Cole of the S-E Lady Marauders, Purple Tornado sophomore Margaret Dougher and Greene's Drew Erickson – an eighth-grader – also saw their names on the list for the outstanding performances throughout the year.
Abby Flynn, Norwich senior
Class B Second Team
Flynn, a four-year varsity player for head coach Josh Bennett and the Lady Purple Tornado, ended her final season as a Section IV Class B champion for the second straight year. The senior helped pave the long and tough road, filled with obstacles all season long with her leadership on the court for Norwich.
Nearly averaging a double-double over the course of the 22-game schedule (16-6 record), Flynn scored 14.4 points per game and pulled down 9.6 rebounds each contest to be a strong force on the inside. She also added a large presence on the defensive end of the floor, coming away with 4.3 steals per game.