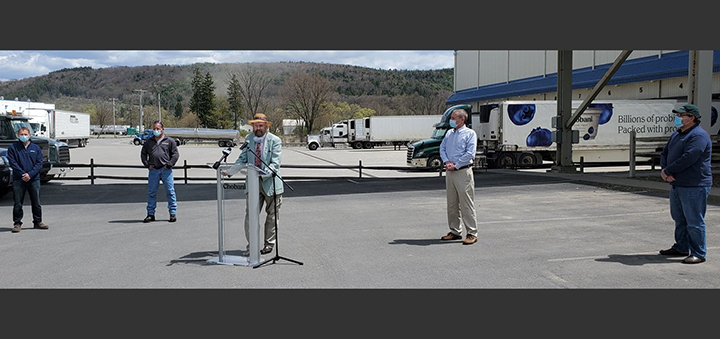 Representatives from Chobani, Department of Agriculture and Markets, and the Chenango County Farm Bureau came together to celebrate the first shipment of Chobani products to help food banks as apart of the new Nourish New York program. (Photo by Catherine Sasso)
NEW BERLIN – Thursday, Chobani sent their first aid shipment that is going to supply food banks with much needed dairy products, as a part of the new Nourish New York program.
According to Chobani Spokesman John Kell, Governor Andrew Cuomo launched the $25 million Nourish New York program in late April. The State is providing funding to New York food banks so they can purchase excess products, such as fruits and vegetables from New York farmers and surplus dairy products from New York dairy manufacturers, to distribute directly to communities.
The majority of funding will be used to purchase dairy products and Chobani is among the dairy processing partners that will be participating in the program.
Although this is the first truck to deliver product as a part of the Nourish New York program, Chobani has sent about 3 million cups of yogurt all over the country to help stock food banks.