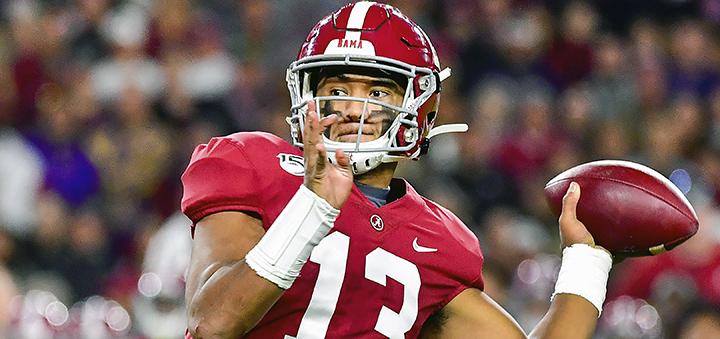 In this Nov. 9, 2019, file photo, Alabama quarterback Tua Tagovailoa plays in an NCAA football game in Tuscaloosa, Ala. Tagovailoa is a likely first round pick in the NFL Draft Thursday, April 23, 2020. (AP Photo/Vasha Hunt, File)
By BARRY WILNER AP Pro Football Writer
The NFL's practice draft Monday to test technology and communications for the real thing beginning Thursday night had no major hangups.
There were some technical glitches at the outset, when the Cincinnati Bengals were making the first selection, and at various spots, several people involved in the virtual test told The Associated Press. A few of them spoke anonymously because they were not authorized to comment publicly.
Indeed, Commissioner Roger Goodell earlier this month warned team executives not to be critical of the process, nor of the league's decision to go ahead with the draft as scheduled April 23-25.
But general managers John Lynch of the NFC champion San Francisco 49ers and John Elway of the Denver Broncos were satisfied with the proceedings.
"I think we used it as another opportunity to focus on internally," Lynch said. "I think the chatter out and about that I understand is going on, that it really wasn't in a good situation, I didn't really see that. I think early there were a couple of hitches. That's why we do practice trial runs."