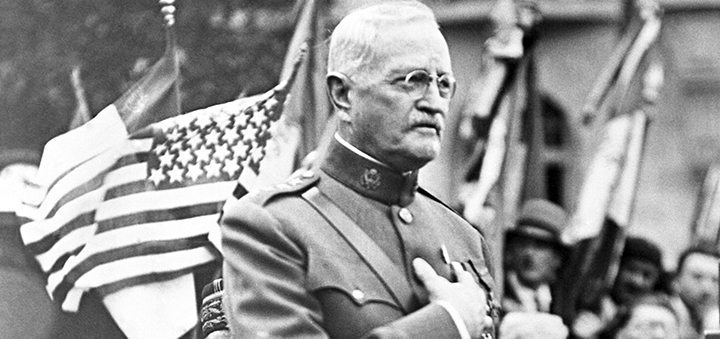 In this Sept. 15, 1935, file photo, General John J. Pershing makes a speech during the ceremony of planting an oak tree named after him to celebrate his 75th birthday and the 17th anniversary of the battle of St Mihiel, in St Mihiel, France. In the aftermath of World War I, 14 countries competed in the Inter-Allied Games in 1919, in a stadium named for Pershing, commander of the American Expeditionary Force in Europe. (AP Photo/File)
The world in 1919 was hardly a place for fun and games.
A war like no other had ravaged Europe, killing untold millions and leaving the continent devastated. The Spanish Flu pandemic was waning but still wreaking its horrors, with some 50 million people dead worldwide, including 675,000 in the United States.
But hundreds of thousands of troops from various countries were still in Europe. The war was over but they were bored, with little to do until the time came to be shipped home.
And so was born an international competition like no other. The Inter-Allied Games would bring together nations weary of war in some traditional — and not so traditional — sports.
A century before the Tokyo Olympics were postponed as coronavirus spread across the earth, sports helped in the healing.
Italians played basketball for the first time, while Americans won medals by throwing grenades like the baseballs they tossed at home. There was golf and tug of war, and a black American was a big star, 17 years before Jesse Owens stared down Adolf Hitler in Berlin.
Fourteen countries competed on the outskirts of Paris, including a team from the Kingdom of Hejaz (now part of Saudi Arabia) that brought four camels used in the opening parade. Women were not invited to compete, but French tennis phenom Suzanne Lenglen — who would win her first Wimbledon title the next month — played demonstrations and beat every man she met on the other side of the net.