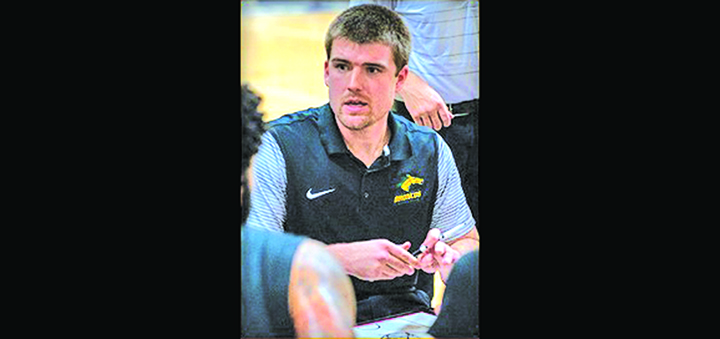 Zack Thomsen, head coach of the SUNY Delhi Broncos men's basketball team, was honored with his second straight American Collegiate Athletic Association (ACAA) coach of the year award after a 20-7 season and back-to-back conference title. Thomsen is a South New Berlin native . (Photo provided by SUNY Delhi Athletics Department)
SIOUX FALLS, S.D. – For the second straight season, SUNY Delhi men's basketball head coach Zack Thomsen was awarded coach of the year award for the American Collegiate Athletic Association (ACAA) after leading his team to their second NCAA Division III tournament appearance.
"I'm honored to have been named coach of the year for the second year in a row," said Thomsen, a South New Berlin native and former stand-out for the Unadilla Valley Storm boys' basketball program. "It's a credit to the tremendous student-athletes within our program."
Thomsen, the latest in a long line of prominent men's basketball head coaches at SUNY Delhi, is in his fifth year as head coach of the Broncos men's basketball squad. With a current overall record of 82-62 in his five season, Coach Thomsen holds the distinction of being the program's sole coach since its transition to four-year athletics, as well as its move to NCAA Division III. Prior to the move, the SUNY Delhi program was a part of the National Junior College Athletic Association (NJCAA).
"I always knew I wanted to be a college coach," said Thomsen. "All of my greatest mentors – outside of my parents – were my coaches. I wanted to be able to be that for the next generation of college basketball players."