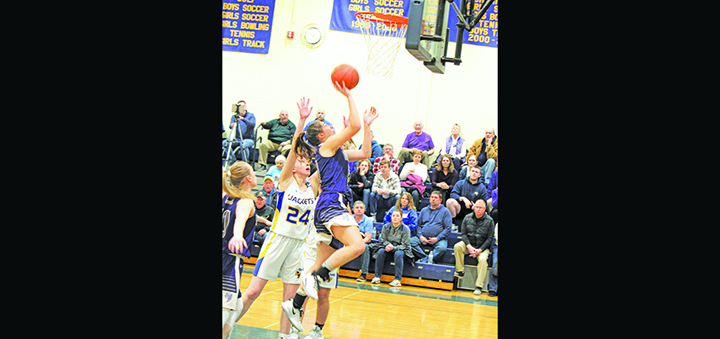 Norwich's Abby Flynn scores two of her game-high 18 points in the 55-50 win over top-seeded Oneonta Wednesday night. The Section IV Class B semifinal victory sends Purple Tornado to their second straight championship game, where they will take on Newark Valley at the Floyd L. Maines Veterans Arena on Sunday (Photo by Jamey Mullen)
ONEONTA – As the saying goes, it's hard to beat the same team three times in the same season. The Norwich Lady Purple Tornado proved that saying to to be true Wednesday night when they knocked the top-seeded Oneonta Yellowjackets out of the Section IV postseason with a 55-50 victory.
With the lead changing hands between Norwich and Oneonta several times in the final eight minutes of play, it was the Tornado's four straight offensive possessions with a 3-point bucket that ultimately pulled the team ahead late in the game.
Known for how well they can shoot behind the arc, Norwich started the game off ice cold from long-range. Senior forward Abby Flynn made the Tornado's first and only 3-point field goal of the first half.
A little hesitant for a while after a considerable number of missed attempts, Norwich's Sydney Coggins, Margaret Dougher and MacKenzie Hess finally found their shot.
In the fourth quarter, Coggins knocked down the first of four in a row by the Lady Purple Tornado. Her made basket cut Oneonta's lead down to three with 4:20 left in the ball game.
The Yellowjackets' Ava Eichler picked up two points at the rim after Laine Johnson found her teammate near the rim to put Oneonta back up by five points.