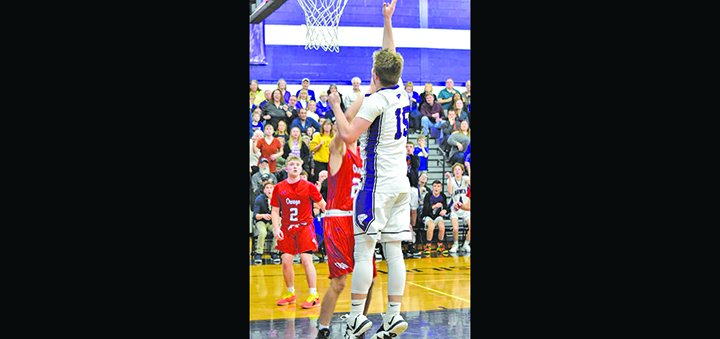 Purple Tornado sophomore Logan Ford releases the game-winner in Norwich's thrilling overtime win against Owego in the Section IV Class B semifinals Tuesday night. Ford finished with nine points in the win and his last two points sends Norwich to the championship game at the Arena on Sunday. (Photo by Jamey Mullen)
NORWICH – Trailing 69-68 with just 3.2 seconds left in overtime and the ball in the front court Norwich's Carson Thorton looked to inbound the ball following the timeout by head coach Tom Collier. Thorton found senior teammate Jahlil Jones on the right side wing but immediately two Owego Indians defenders were on the ball.
As the clock was winding down, the Purple Tornado faithful were screaming for Jones to shoot as the chance for Norwich to win the game were dwindling. However, Jones recognized Logan Ford was left wide open under the rim.
With just enough time left to make the pass and get a shot off, the Tornado duo made the play work and Ford made the layup as the buzzer sounded. The court filled with Norwich fans at half court while the rest stood on their feet with excitement as the Tornado captured the 70-69 win in dramatic fashion.
Jones did it all in overtime, pacing his team with six points to take the lead in the extra minutes of basketball. The Norwich senior added a much needed block from behind in the closing seconds, preventing Owego from taking the late-game advantage. He finished with 14 points and the game-winning assist.