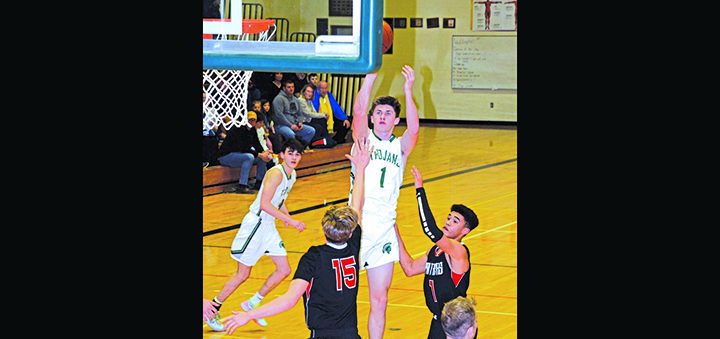 The Trojans' Nate Barry buckets two of his game-high 26 points as Greene comes away with 58-47 sectional first round victory over Spencer Van Etten Tuesday night. The Trojans now host Groton on Friday night in the quarterfinals of the Class C tournament. (Photo By Pete Mansheffer)
GREENE – The Trojans boys basketball overcame a two-point deficit at halftime to win 58-47 in the Class C first round matchup against Spencer Van Etten on Tuesday night. Greene captured the victory at the free throw line in the fourth quarter.
A close battle throughout the entire contest, the Trojans took full advantage of the double bonus in the second half and even more in the final eight minutes of play.
Greene's final points of the game came at the charity stripe as Nate Barry, Drew Erickson and Nate Parker combined for 16 attempts, sinking 14 in the late game stretch.
The Trojans shot 81.8-percent (27-for-33) from the foul line for the game push the home team into the next round of the Section IV tournament