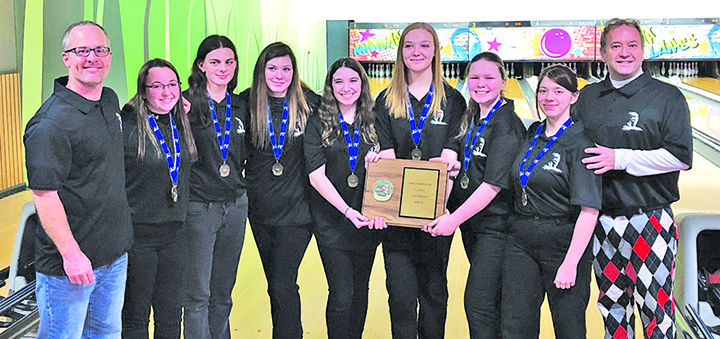 The members of the Greene/Oxford girls bowling team pose for a picture after claiming the Section IV Class C title Friday night at Midway Lanes in Vestal. The girls finished with a total of 2631, just 22 pins ahead of the second place team from Union Spring-Port Byron. Erin Howard placed third overall for the Class C field with a 602 series score and Brianna Fowlston recorded the third highest single game score of 216. (Submitted Photo)
Several bowlers from Chenango County earn spot at state qualifier
VESTAL – Over the course of two days, 10 Section IV bowling teams were crowned champions in their respective classes at Midway Lanes in Vestal.
Coming away with the title for Class C was the girls' team hailing from Greene/Oxford, topping all teams in the field with 2631 total pin count for three games. The group of five bowlers defeated the second place team from Union Springs-Port Byron by 22 pins to win the sectional championship.
Greene/Oxford's senior Erin Howard led the team with a series score of 602, the third highest in all of Class C for the girls. Her score included a one game total of 214.
Teammate Kayli Willes rolled a three game series of 557 and was followed by the 538 from colleague Halia Tallett.
Brianna Fowlston added a 490 for the evening – including one game scoring a 216 which was the highest by any bowler on the Greene/Oxford squad – and Mikayla Trost rounded out the team's top five with a 444.
Placing ninth in Class C was Afton-Harpursville with a final pin count of 2103. Pacing the Afton-Harpursville team was Ashlynn Caffery with a series best 494. Taylor Rutherford bowled a 456 while Destinee Thompson finished the day with a 407.
Sasha Whitney and Kassiee Mercilliot ended the night separated by 12 pins as Whitney scored 379 pins and Mercilliot rolled a 367 series total.