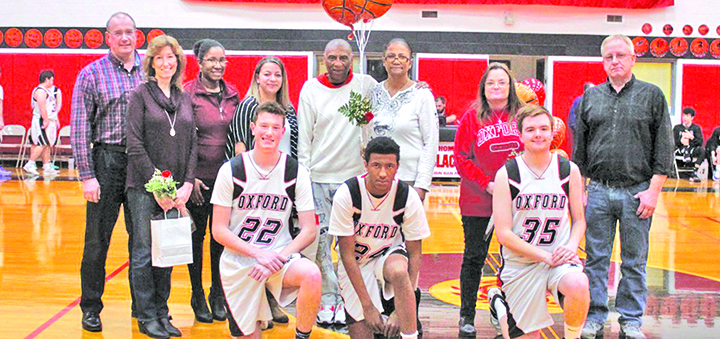 Oxford Boys Basketball head Coach Booker Davis recognized his three seniors prior to the start of Monday's contest against Unadilla Valley. Pictured with their parents are Matt Roach (left), Pleasie Hughey III and Dylan Conklin. All three Blackhawks scored on the special night but UV captured the win. (Submitted Photo)
OXFORD – The Blackhawks boys basketball team jumped out to a 13-12 lead after the first quarter to start their senior night contest with Unadilla Valley Tuesday night. The Storm, however, responded with a 22-11 run in the second behind 12 points off of made 3-pointers by Brock Davis and Caleb Parker.
The 10 point lead at the half turned into a 56-45 victory for UV, spoiling Oxford's special night for their three soon-to-be graduates.
Davis and Parker combined for 37 of the Storm's points – thanks in large part to the sharp shooting from behind the 3-point arc. Davis finished with five from long range while Parker knocked down three.
Pleasie Hughey III, one of the Blackhawks' three seniors, ended the night with a game-high 21 points in the loss. The senior made eight field goals and went a perfect 5-for-5 from the free throw line to pace Oxford.
Before the start of the contest, first-year head coach Booker Davis honored Hughey, Matt Roach and Dylan Conklin for their years of dedication to the program. All three were joined by James Miceli and Owen Marvin for Oxford's strong start to the game.