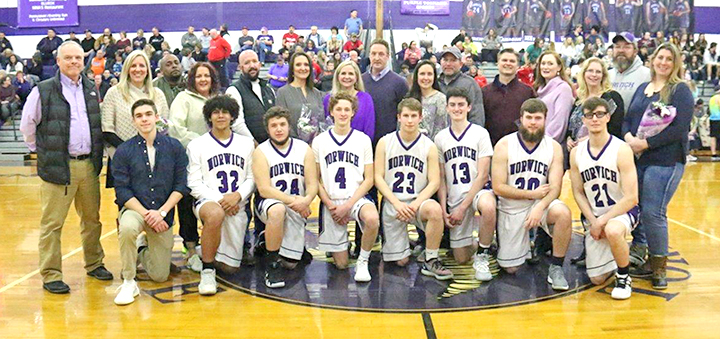 Before the start of contest against long-time rival Oneonta, Norwich head coach Tom Collier and the Norwich boys booster club honored the eight seniors of the 2019-2020 team. Pictured in front of their family members are Brayden Supensky (far left), Jahlil Jones, Shane Lawrence, Carson Maynard, JT Vinal, Tommy Flanagan, Kyle Shepard, and Anthony Collier. the Pruple Tornado captured the win win a final of 57-52 (Evening Sun Photo, Frank Speziale)
NORWICH – The clash between the two long-time rivals Norwich and Oneonta was a game of scoring spurts and momentum shifts all night. The Purple Tornado, however, used their early run in the first quarter to gain the lead and the eventual 57-52 win of the Route 23 battle.
The Tornado's head coach Tom Collier honored his eight seniors: Carson Maynard, Tommy Flanagan, Anthony Collier, JT Vinal, Shane Lawrence, Kyle Shepard, Jahlil Jones and Brayden Supensky prior to the start of the contest.
Norwich's senior starting five instantly made their presence known as Flanagan tipped the opening jump ball to teammate Vinal, who then found a streaking Lawrence on his way to the rim. Lawrence caught the laser pass and finished the layup for a quick two points.
A forced turnover on the defensive end of the floor led to a fast break bucket by Carson Maynard and a 4-0 lead for the Tornado.
The ensuing trip up the court for Norwich ended with a 3-point field goal for Flanagan – his first of four in the game – and the home crowd erupted with excitement.
The Yellowjackets promptly responded with five points of their own with a bucket on the inside and a 3-pointer from Alex Osterhoudt.
The Tornado, however, used the nine points on the inside from Maynard to take the first quarter battle 17-10.