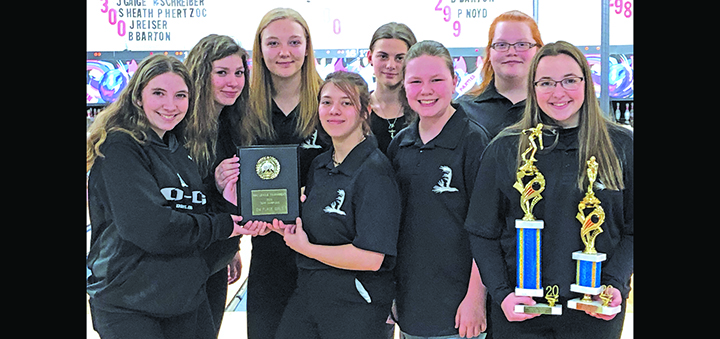 Members of the Greene/Oxford girls bowling team stand with the with the Midstate Athletic Conference plaque after the championship tournament Tuesday afternoon. The girls finished second out of seven teams. Erin Howard (far right) finished the day with the highest match-series score (652) of all bowlers that participated. (Submitted Photo)
Howard rolls highest series of tournament; Norwich tops Oneonta
HANCOCK – The Fox Bowling Center in Hancock hosted the Midstate Athletic Conference Championship action on Tuesday. Seven teams took the to lanes starting a 10 a.m. and by the end of the day, both the Hancock Wildcats boys and girls bowling teams captured the MAC titles.
The Greene/Oxford girls team finished in second behind a strong performance from Erin Howard. The senior bowler ended with the tournament's series high, bowling a three-game total of 652 pins – including the third highest single game score of 246.
Howard bowled a 204 and 202 during the day, reaching the top games board with both, while teammates Mikayla Trost and Halia Tallett also had single game high scores. Trost's best game of the tournament was a 199 and Tallett's games added up to be the fifth highest for all the girls, rolling a 557 for the match.
The Lady Storm of Unadilla Valley placed third in the championships, finishing with a team total of 2,316 pins. Paige Catena bowled two games (188 and 184) that reached the high game leaderboard and teammate Bryn Grant matched Catena's 184 to help the team place in the top three.
Bainbridge-Guilford finished fifth on the girls' side as Catherine Fuller led the way with a 567 match series – the fourth best of the day. Afton/Harpursville placed seventh.