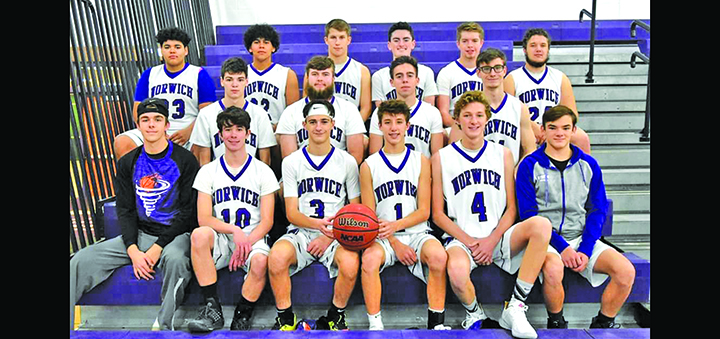 The Norwich Purple Tornado Boys Basketball team came from behind Tuesday night, capturing a Southern Tier Athletic Conference win over Chenango Valley 71-60. The team has won 13 games this season and are 8-2 in STAC league play. (Photo by Tracey Vinal)
BINGHAMTON – Trailing by five at the end of the first quarter, Norwich battled their way back into the game against the Chenango Valley Warriors Tuesday night, tallying 20 points in the fourth to take the 71-60 Southern Tier Athletic Conference win.
The Purple Tornado built up the momentum shift into their favor after back-to-back 3-pointers by Tommy Flanagan at the end of the first half to pull within three of the home Warriors.
In the second half, Flanagan picked up where he left off as he drained another two. Carson Maynard got into the long distance action, hitting one of his own as Norwich tied the game at 51-51 at the conclusion of the third quarter.